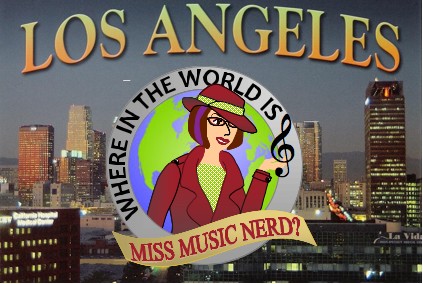 Greetings from L.A., music nerds! GRAMMY Week is in full swing, and I'm already regretting my shoe choice… the Staples Center/L.A. Convention Center complex covers a wide area!
Did you know that you can see some of what I'm seeing from the comfort of your own computer? GRAMMY Live kicks off today at 2 p.m. Pacific Time. I'm particularly excited that it will stream the awards-show-before-the-awards-show on Sunday afternoon before the television broadcast. "Pre-tel," as we cool kids call it, is where most of the awards are actually given out, including, or course, the Classical field!
Last night I saw some amazing performances at One Night Only, a benefit for the GRAMMY Foundation's Music Preservation Project, including a classical curtain-raiser by the Colburn Orchestra with Yehuda Gilad I tweeted so much I actually hit a Twitter limit for a little while during the performance! The GRAMMY Community Blogger for Gospel got some great photos — check out his Tumblr.
This morning I'm attending The 2nd Annual Greening Summit: The Sound Of Social Change , learning about ways that the week's events are being made more sustainable and eco-friendly. Coming up in the afternoon is the Social Media Rock Stars Summit: How Musicians Monetize Through Social, Mobile & Gaming. Hmm, maybe someone should invent a social media classical music game… Chords With Friends? No wait — Violas With Friends! Speaking of which…
This week's Viola Joke
is a visual: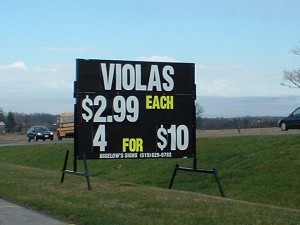 Jenn at
Ain't Baroque
comments: "I wonder if he knows he overpaid?"
The Week in Funny Music Pictures! Here's one that our GRAMMY Jazz Blogger might appreciate, via The Violin Channel: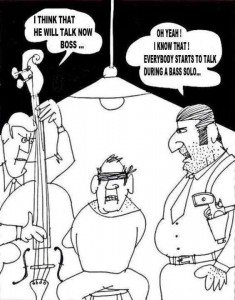 Here's a controversial one, but not for the reason you might think: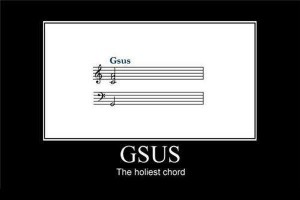 As this comment thread demonstrates, music theory can give religion a run for its money as a topic for hot debate! Is that a true suspended chord on a G root, or is it an F major chord with a G in the bass? Kind of like the story of the allegory of the Blind men and the elephant, it depends on how you approach it!
What's new in your music nerdosphere this week?
Let's keep in touch!
Follow MMN on Twitter!
Like MMN on Facebook!
var _gaq = _gaq || []; _gaq.push(['_setAccount', 'UA-20853339-1']); _gaq.push(['_trackPageview']);
(function() { var ga = document.createElement('script'); ga.type = 'text/javascript'; ga.async = true; ga.src = ('https:' == document.location.protocol ? 'https://ssl' : 'http://www') + '.google-analytics.com/ga.js'; var s = document.getElementsByTagName('script')[0]; s.parentNode.insertBefore(ga, s); })();