Happy Friday, music nerds! In today's nerdy music links, we go from the sublime to the ridiculous (but what else is new?), celebrating Chopin, the Monkees, and the best way to learn about Opera! Let's leap right in!
Where in the World is Miss Music Nerd?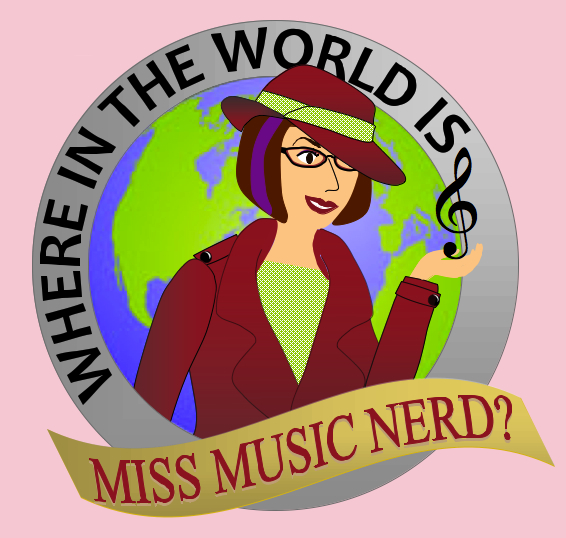 Right now I'm looking out my window and marveling at the fact that there is snow on the ground, for the first time since October! But on Monday evening I'll be at Berklee College of Music hearing the fabulous rock 'n' roll string quartet, ETHEL. Boston area peeps, check it out — admission is free!!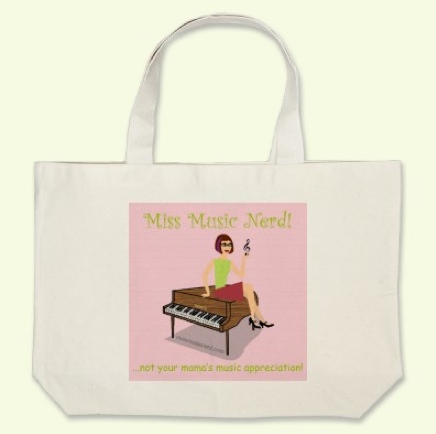 For most of this week I've been chained to my laptop as usual, but this time at least, I have something tangible to show for it:
Miss Music Nerd Merch! Yes, I know that my lone coffee mug has been languishing for months now, and that the world has been clamoring to have MMN on a t-shirt, tote bag, key chain and more… Well, the wait's over!! Oh, and if pink is not your thing, I have some more manly products just for you!
In other news of the week, the music world marked the birthdays of composers Gioachino Rossini (February 29) and Frédéric Chopin (February 22 or March 1, depending on who you believe). Rossini was honored with a Google Doodle that whimsically combined music and Leap Day: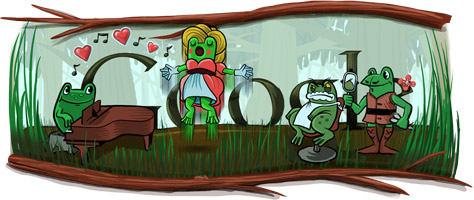 I'll confess, when I first saw this, I said, "What's with the frogs?" Duh!
Next, of course, my thoughts turned to opera, and where I learned about it first:
Oh, and check it out in in Spanish!!
I know I'm not the only one who was introduced to opera this way — look, there's a chart and everything!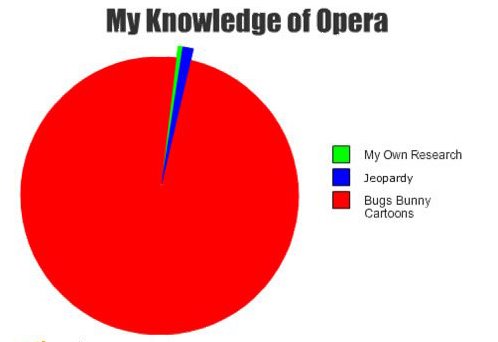 As for the Chopin commemoration, it's a bit more serious. In a New York Review of Books article commemorating Chopin's bicentennial two years ago, Pianist Charles Rosen made many interesting observations on Chopin's music, including how the perception of his place in the Composer Pantheon has changed (for the better) over time. He also remarks that "Chopin's music has no humor, except for a certain elegant wit present in some of the preludes and mazurkas."
Because I adore both Chopin and humor, I've tried to think of a counterexample to disprove Rosen's statement, but so far I've come up empty-handed. I don't know if it counts, but you'd get a big laugh if you ever watched me attempt to play that crazy middle section from Chopin's Etude no. 3 in E major. Starting at 2:05 on the video below, that's some out harmony right there, yo!
Chopin: Etude no. 3 in E major

I can think of examples of Chopin's music being used in humorous contexts, of course: you can always count on Bugs Bunny, master music educator!
Speaking of humor, here's the Viola Joke of the Week, brought to you by Jenn at Ain't Baroque!
A violist got so tired of all the jokes made at his expense he made a drastic decision. "I've decided to leave the music business," he announced. "I'm going to become a conductor!"
In sad music news, Davy Jones of the Monkees passed away on Wednesday. I used to love watching the Monkees as a kid, but I didn't remember that they sang a song about me! (Not an accurate portrait, though!)
The Monkees: Don't Listen To Linda

You know, if I had the time today, I would compose a Piano Puzzler-style mashup of a Monkees song and a Chopin piece. I smooshed Chopin and Gershwin together before, so I'm sure it could be done. Anyone else want to take a stab at it?
What's the news in your music nerdosphere?
Let's keep in touch!
Follow MMN on Twitter!
Like MMN on Facebook!
var _gaq = _gaq || []; _gaq.push(['_setAccount', 'UA-20853339-1']); _gaq.push(['_trackPageview']);
(function() { var ga = document.createElement('script'); ga.type = 'text/javascript'; ga.async = true; ga.src = ('https:' == document.location.protocol ? 'https://ssl' : 'http://www') + '.google-analytics.com/ga.js'; var s = document.getElementsByTagName('script')[0]; s.parentNode.insertBefore(ga, s); })();