ETHEL: Present Beauty
Monday, March 5, 2012, 7:30 p.m.
David Friend Recital Hall
Berklee College of Music
Classical music has a bit of a PR problem. It has a bad reputation as being boring, stuffy, and overly serious. There's even a web comic about it! Now, the extent to which that reputation may not be entirely undeserved is a rich topic worthy of exploration, but I'll save that for another day.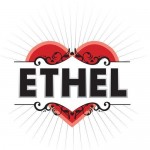 A major component of my music nerd mission is to bring you examples of how the classical world gets it right, which it often does. One of those examples was on display Monday night in Boston, when I got to hang out with one of my favorite classical bands, the string quartet ETHEL. They play with amplification, and they rock. Self-described as "postclassical," they focus on music of recent decades, highlighting composers who combine traditional classical training with the pop music influences they grew up with. And while that may sound cutting-edge, it's not really new; composers have always responded to whatever was going on around them, freely borrowing or, let's face it, stealing from the popular music of their time.
Monday's program, titled "Present Beauty," began with
To Whom It May Concern: Thank You
, by
Mark Stewart
. Inspired by his parents' agnostic dinner table prayer, Stewart's piece was a fitting opener for a program dedicated to beauty.
Here's ETHEL's video of a past performance of the piece:

Next up were works by two icons of minimalism: Terry Riley and Philip Glass. I've mentioned before that I'm somewhat resistant to minimalism, so I was gritting my teeth a little bit before the start of Riley's Sunrise of the Planetary Dream Collector. But then something wonderful happened: where I was expected to be bored and frustrated by mind-numbing repetition, I was actually won over by the richness of the music and the expressivity the members of ETHEL brought to it. There were moments that felt positively Brahmsian to me… I don't know if Terry Riley would take that as a compliment or an insult, but I certainly mean it as a good thing!
Here's a version of Sunrise by the Kronos Quartet. Each performance is unique because the piece is constructed of modules that the performers put in an order they choose.

The centerpiece of the program was ETHEL's own arrangement of music from Philip Glass's soundtrack for The Hours. Here, too, the music was richer and more emotionally expressive than I tend to give minimalism credit for. Maybe I'm just going soft…
Here's one of the selections ETHEL arranged: "Morning Passages" in its original soundtrack version:

The rockin'-est piece on the program, without a doubt, was Early That Summer, by Julia Wolfe. Inspired by a phrase from a book about American political history she was reading when she composed it, the piece concerns the way a "small occurrence would, over time, snowball into something large and explosive." It's one long build-up, and it'll make your hair stand on end! You can hear a sample from the piece here. The piece was by far the most dissonant and modernist-sounding on the program; I loved the crunchy harmonies, and as a bonus, it removed any guilt I felt over digging the prettier pieces that came before.
The next piece was a real heart-wrencher: David Lang dedicated his piece wed to the memory of a visual artist who married her boyfriend in her hospital room while dying of cancer. It was originally written for solo piano, and it's very interesting to compare the crystalline quality of the piano version with the sustained tone that the strings can do. I only wish I could find a string arrangement to post here, but here's the piano version:

Closing the program was Huang Ruo's String Quartet No. 2: The Flag Project. Inspired by the motion of Buddhist prayer flags in the wind, the piece also conjures the sound of Buddhist monks chanting. Each string player is asked to play Tibetan finger cymbals as well as their string instrument. You can hear the piece on InstantEncore.
After the crowd went wild, ETHEL did an encore that made me wish McDoc hadn't been working that night so he could've heard it: their cover of Led Zeppelin's "Kashmir." ETHEL violist Ralph Farris joked that it's one of the oldest pieces they play!
It turns out ETHEL isn't the only string quartet to cover this song, but I have mixed feelings about this version. That, too, is another topic for another day…
ETHEL tours frequently, so if they perform anywhere near you, run, don't walk, and tell 'em Miss Music Nerd sent you!
Let's keep in touch!
Follow MMN on Twitter!
Like MMN on Facebook!
var _gaq = _gaq || []; _gaq.push(['_setAccount', 'UA-20853339-1']); _gaq.push(['_trackPageview']);
(function() { var ga = document.createElement('script'); ga.type = 'text/javascript'; ga.async = true; ga.src = ('https:' == document.location.protocol ? 'https://ssl' : 'http://www') + '.google-analytics.com/ga.js'; var s = document.getElementsByTagName('script')[0]; s.parentNode.insertBefore(ga, s); })();