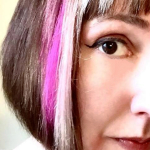 Miss Music Nerd, a.k.a. Linda Kernohan, is a composer, pianist, educator and writer. She has taught music appreciation to unsuspecting college students and private piano lessons to adorable K-12 kids. She has contributed to NewMusicBox, a multimedia publication dedicated to the music of American composers, and Burgh Vivant, Pittsburgh's cultural talk magazine, and she was the classical blogger for the Grammy Awards for five years.
Her music has been performed across the U.S. and in Germany, the Czech Republic, and China. She has been commissioned by many ensembles, including the McConnell Arts Center Chamber Orchestra, the San Diego Chamber Orchestra, the La Jolla Symphony and Chorus, the Columbus Ohio Discovery Ensemble (CODE), PANdemonium 4 flute quartet, Leviathan Trio, and Tower Duo.
Recent works include Sandy Songs, a song cycle in collaboration with Daniel Neer, lyricist and baritone, A World in Which Such Beauty Exists, commissioned by the McConnell Arts Center Chamber Orchestra, and Before Sensation Returns, for percussionist Cameron Leach. Her solo flute piece Demon/Daemon was released on the album Returning to Heights Unseen by new music advocate and flutist extraordinaire Lindsey Goodman in May 2018.
As a pianist and organist, she has performed her own music as well as that of her fellow composers and works from the traditional repertoire. She has played in a wide variety of venues, from a West Hollywood nightclub to the Basilica of St. Peter in the Vatican. From 2000 to 2002 she was one half of the Geisel Library Toy Piano duo with Scott Paulson, and she appeared on ABC's World News Tonight with Peter Jennings, and on PBS's California's Gold with Huell Howser. She has also performed as a chamber musician, vocal accompanist, church musician and music theater pianist.
Linda holds a B.A. in music from U.C. Berkeley and an M.A. in music composition from New York University. She is currently a doctoral student in composition at The Ohio State University.
Linda teaches at Otterbein University in Westerville, Ohio. She has taught courses in music theory, music history and class piano at New York University, U.C. San Diego, San Diego City College, and Community College of Allegheny County. She has also taught class piano and private piano lessons at the elementary and secondary levels.
She was born in St. Louis, and grew up in Northern California's Napa Valley. A fervent city girl at heart, she realized her dream of moving to the mythical realm that she always considered her spiritual home — New York City — in her carefree post-college days. Alas, the rents were too high and the apartments too small to sustain this dream life over the long term.
She now lives in Columbus, Ohio with her physician/poet husband Brian McMichael (a.k.a. McDoc), a very handsome Australian Cattle Dog named Lucky, and a sweet and loving feline murderess named Ariadne (Ari for short). Her feline bodhisattva, Piccolo, went to the Rainbow Bridge on September 9, 2014, after 17 wonderful years; he lives on in her heart.