The big GRAMMY day is here, music nerds! In a few hours, I'll head down to the L.A. Convention Center to attend the awards-show before-the-awards-show. Known by us cool kids as "Pre-Tel," this is the ceremony that takes place in the afternoon before the televised broadcast, and it's where the vast majority of the awards are given out. Including, of course, the Classical Field awards, so this is my big event! If you want the earliest possible results on the classical winners, refresh my Twitter feed frequently between 1 and 4 pm Pacific! (You can view my tweets even if you're not a tweeter yourself!) You can also watch the online stream, which will include Pre-Tel as well as the red carpet goings on — go to GRAMMY Live. There's an app for that, too, for Android and iPhone/iPad!
One thing I've learned from my past two GRAMMY seasons is that there aren't necessarily a whole lot of classical nominees in attendance (but if you are here, please say hello!). This is regrettable for me, since I'd love to meet them, but I think it's a sign that they are busy doing what musicians do, so that's a good thing.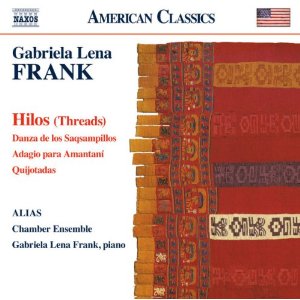 I do hope to run in to composer Gabriela Lena Frank, who told me she'll be here with her dad as her date (aww!). She is nominated in the Best Small Ensemble Performance category, along with the ALIAS Chamber Ensemble, for Hilos
, a CD of her compositions on which she also plays the piano.
We're all running around like chickens with our heads cut off this weekend, but I did to ask Gabriela the question of the moment:
*****
MMN: You won a Latin GRAMMY for for best Contemporary Classical Music Composition in 2009, and now you're nominated for a Classical GRAMMY for the second year in a row. How did you feel when you learned you'd been nominated, and then when you won?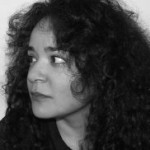 GLF: For us composers, we wouldn't be getting recognized if it weren't for the efforts and confidence of our performers — I have to give a shout-out to guitarist Manueco Barrueco and the Cuarteto Latinoamericano for the 2009 Latin GRAMMY win, a 2010 Classical Crossover nomination nod through the graces of the Silk Road Ensemble, and now this nomination because of the incredible work done by the ALIAS Chamber Ensemble based in Nashville. What makes this last one especially sweet is that I got to perform on the disc, too. As someone who composes more than I play, when I get a chance to perform with amazing instrumentalists, it's a chance to achieve something at their level. In the process, we've all become incredibly good friends, and it's purely awesome to share the recognition with them.
*****
Today is a celebration of all different kinds of music, and it may be clichéd to say so, but all of the classical nominees are already winners. I'm looking forward to their moment in the GRAMMY spotlight!
Let's keep in touch!
Follow MMN on Twitter!
Like MMN on Facebook!
var _gaq = _gaq || []; _gaq.push(['_setAccount', 'UA-20853339-1']); _gaq.push(['_trackPageview']);
(function() { var ga = document.createElement('script'); ga.type = 'text/javascript'; ga.async = true; ga.src = ('https:' == document.location.protocol ? 'https://ssl' : 'http://www') + '.google-analytics.com/ga.js'; var s = document.getElementsByTagName('script')[0]; s.parentNode.insertBefore(ga, s); })();