Thursday night I attended my first official GRAMMY Week event: "One Night Only: A Celebration Of The Live Music Experience," benefitting the GRAMMY Foundation's Music Preservation Project. The official purpose of the evening was to highlight the GRAMMY Foundation's work in preserving archival audio and visual media from the days before digital. But when it got down to it, the evening was about rocking out in a big way.
Along with a few of my fellow community bloggers, I got to hang out on the red carpet and see some of the stars in attendance up close. A few highlights:
Look, ma, we're on the red carpet! L to R: Elements of Jazz, yours truly, the Hard Rock Chick & Twang Nation.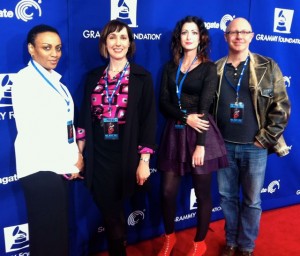 Co-host Sharon Osbourne, who looks elegant but can talk tough when she wants to!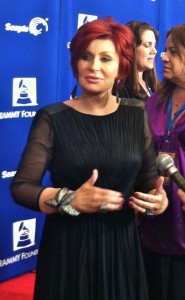 Co-host Steve Vai won the prize for coolest shades.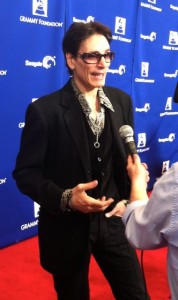 Donna, our GRAMMY Jazz blogger, was feeling a bit shy, but I cajoled her into chatting with a couple of the artists. (I sometimes need a nudge like that myself — just ask McDoc!)
Here she is with blues guitarist Robert Cray: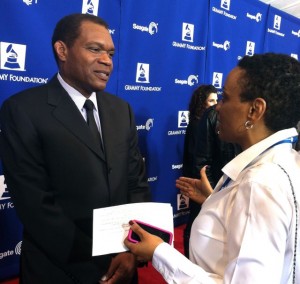 GRAMMY Rock blogger the Hard Rock Chick got some great interviews, too — read about it here.
I got to meet Yehuda Gilad in person, who I spoke to the day before: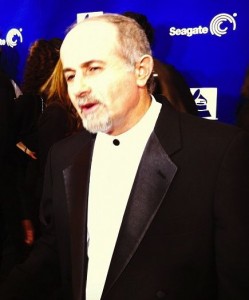 At one point, an artist came down the carpet who looked like a 12-year-old boy dressed up as Bob Dylan. We kept asking, "Who's the little boy?" and we were corrected: it was singer/songwriter L.P., who would go on to knock our socks off later in the evening.

In my opinion, the best red-carpet moment came when A Traveling Pug, a.k.a. Phoebe Rose, posed with a couple of the human stars — check it out!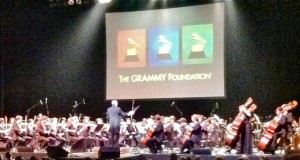 As I was promised, the evening started with a nod to classical music: the Colburn Orchestra, made up of professional-caliber conservatory students, played an all-too-brief excerpt from the last movement of Dvorak's Symphony No. 9 in E Minor, "From the New World."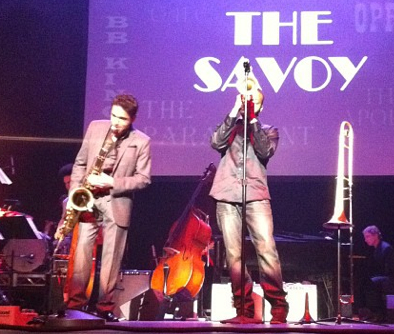 Next up was sax player Dave Koz and Trombone Shorty, who played "Take the A Train" and "On the Sunny Side of the Street." It was swingin' from the get-go, but the audience went absolutely bonkers when Trombone Shorty took a solo and held one note for anywhere from one to four minutes, judging by people's tweets! I didn't time it, but I strongly suspect that Trombone Shorty must be a pro at circular breathing!
As I mentioned above, L.P. blew us all away with a voice so big, you wouldn't believe it could come out of her small frame unless you witnessed it. She sang her hit "Into the Wild," which many people know from the Citibank commercial, but it deserves a listen on its own. Then she did an epic cover of Radiohead's Creep. You wouldn't expect a song that's been described as a monumental anthem to self-loathing to come across as life-affirming and exhilarating, but it did.
Here's she is reprising the song later that night (the background noise takes away from the impact, unfortunately):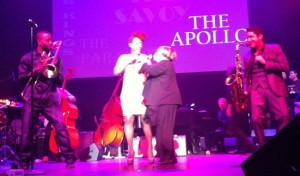 The evening was packed with more great performances, including an epic jam session with Mavis Staples, Ledisi, Trombone Short and Dave Koz.
A Fine Frenzy gave a charming minor-key rendition of "I've Got You Under My Skin," and Shelby Lynne offered a heart-rending "He Stopped Loving Her Today." Guitarists Robert Cray and Jonny Lang both burned up the stage, and Beverly McClellan from The Voice showed off her killer pipes. Bret Michaels of Poison fame wrapped up the evening with "Nothing But A Good Time," which it certainly was.
It may seem redundant to put on a live music event to "celebrate the live music experience," but I have to say that I was blown away. I was working so hard to convey what was going on that I did brief stint in Twitter Jail, but I got out in time to sum it up thusly:


…and I was chagrined that my most re-tweeted tweet of the night contained a typo… That just goes to show how caught up in the moment I was, I guess!
The bottom line is, there's just nothing that compares to a great live performance, and in spite of all the technology we use and enjoy, I don't think that will ever stop being true. It's especially true for classical music — I know I'd much rather hear an orchestra live than sit at home listening to a CD. It's the physical sensation of having the music around you; it's being able to see the players; it's sharing the experience with the rest of the audience. And it's some ephemeral thing that isn't easily put into words. But it's kind of like watching a beautiful sunset: no matter how many times you experience it, it never gets old.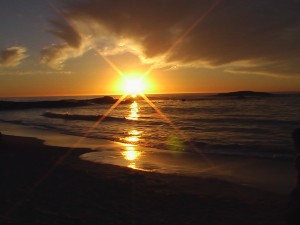 Special thanks to Will Dawson for the use of his photos (the good ones in this post are his, and you can see more here!).
Let's keep in touch!
Follow MMN on Twitter!
Like MMN on Facebook!
var _gaq = _gaq || []; _gaq.push(['_setAccount', 'UA-20853339-1']); _gaq.push(['_trackPageview']);
(function() { var ga = document.createElement('script'); ga.type = 'text/javascript'; ga.async = true; ga.src = ('https:' == document.location.protocol ? 'https://ssl' : 'http://www') + '.google-analytics.com/ga.js'; var s = document.getElementsByTagName('script')[0]; s.parentNode.insertBefore(ga, s); })();