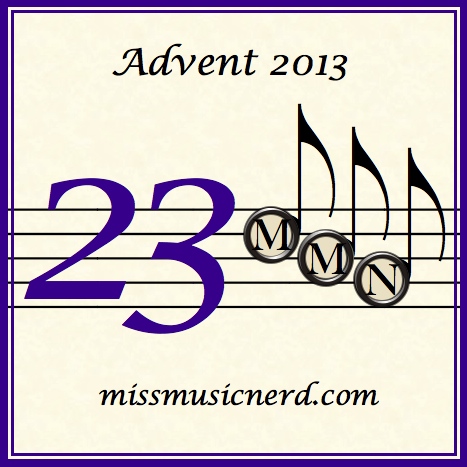 Day 23: "I'll Be Here For Christmas," Meaghan Smith
Not to be confused with "I'll Be Home For Christmas," today's song is a more recent composition, and another selection from this fabulous Canadian Christmas album I keep going on about.
I had a bit of an It's a Wonderful Life/A Christmas Carol experience today. The truth is, save for a few isolated moments, I haven't felt much in the Christmas spirit this year, and I've been feeling a bit sorry for myself about it. I've been moping, really. What about, you ask? Well, McDoc has been working very long hours lately, and doesn't get any time off this week. I'm bummed that we don't get much quality time together. And I'm desperately missing our families and friends who are far away. We've met many wonderful people here in Pittsburgh, but it doesn't feel 100% like home yet.
One bright spot is, my 20-something stepson is here with us, and we are going to cook a fabulous meal together on Christmas Day. Another is that we'll get to sing in the choir at two different churches tomorrow night. It'll be hectic, but fun.
Anyway, today I got a piece of mail that should have gone to our neighbors two doors down. I thought I'd slip it in their mail slot all sneaky-like, but when I got to the front door, I could see that the TV was on, and in an uncharacteristic move for a level 9 introvert like me, I knocked.
The lady of the house answered. She knew who I was, because we moved to the neighborhood recently, but we hadn't really talked yet. She promptly invited me in for tea and offered me some of the Christmas cookies her grandchildren had helped make. Now, I interact with people online all the time, but it's not often I spontaneously get to hang out with someone in their home. It felt very… 20th century. And very nice.
My neighbor and I chatted about our families, as you do, and she told me she and her husband had lived in their house for 42 years. She had grown up in another house a block away. Her two children lived nearby, so she saw her grandkids regularly.
Part of me felt wistfully envious, but another part wanted to kick myself for moping around my house alone so much instead of going out and finding people to spend time with. It's a well-known pitfall of life lived online: being hyperconnected yet isolated at the same time. As I heard this kind woman tell me about her life and her family, I realized that even though I don't have the deep roots in one place that she has, I have plenty of people to love and cherish, and I need to get on the ball with that a lot more!
The narrator of today's song, which you can listen to here, instead of wishing she were traveling to her distant home for the holidays, talks about being content just where she is. "I'll hang my stocking on a new fireplace," she says. And later, the part that always gets me blubbering:
Maybe I'm home, maybe I'm home…
'Cause I'll be here
For Christmas, this year
So deck the halls if you can
It's Christmas wherever I am
Home is where the cat is… And the dog, and the McDoc!
You can order the album "I'll Be Here For Christmas" appears on, A New Kind of Light, here. You can hear the song in streaming form here.
Let's keep in touch!
Follow MMN on Twitter!
Like MMN on Facebook!
var _gaq = _gaq || []; _gaq.push(['_setAccount', 'UA-20853339-1']); _gaq.push(['_trackPageview']);
(function() { var ga = document.createElement('script'); ga.type = 'text/javascript'; ga.async = true; ga.src = ('https:' == document.location.protocol ? 'https://ssl' : 'http://www') + '.google-analytics.com/ga.js'; var s = document.getElementsByTagName('script')[0]; s.parentNode.insertBefore(ga, s); })();