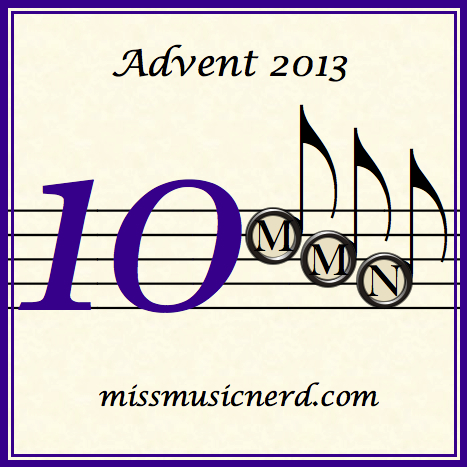 Day 10: Kim Gannon, Walter Kent and Buck Ram, "I'll Be Home for Christmas"
Shortly after our wedding, McDoc and I loaded my car with a few fragile wedding gifts, enough clothing to last until the moving van caught up with us, and one very reluctant cat, and drove from San Diego to Detroit. We've been bouncing from one state to another ever since. Given how frequently we've moved, you might think we were running from the law, but in reality we've been in pursuit of his medical training.
As a result, we have dear friends and family scattered around the country. I sent off some holiday cards today, and started feeling just a wee bit sentimental and melancholy, wishing I had a private jet or something so I could see the people I love more often.
And that reminded me of an iconic Christmas song about missing home, for more poignant reasons than mine. First released in 1943, "I'll Be Home for Christmas" expresses the view of a soldier writing to his family. The first chord change, from a major to diminished seventh chord, foreshadows the gut-puncher of a last line: "if only in my dreams."
Bing Crosby was the first to sing it, or should I say croon it:
>
And of course, it has been covered over and over. I noticed while exploring different versions that the song is deceptively tricky to sing; if the tempo is too slow, the sustained note on each syllable sounds disconnected from the others, so it's hard to shape them into a nice phrase.
Here are a few that rise to the challenge:
Some nice guitar arpeggios in Lady Antebellum's version, and when the strings came in, I got a little choked up!

The song works very nicely with a big band:

And Karen Carpenter's rich contralto voice captures the wistful mood of the song perfectly:

Who are you missing this holiday season?
Let's keep in touch!
Follow MMN on Twitter!
Like MMN on Facebook!
var _gaq = _gaq || []; _gaq.push(['_setAccount', 'UA-20853339-1']); _gaq.push(['_trackPageview']);
(function() { var ga = document.createElement('script'); ga.type = 'text/javascript'; ga.async = true; ga.src = ('https:' == document.location.protocol ? 'https://ssl' : 'http://www') + '.google-analytics.com/ga.js'; var s = document.getElementsByTagName('script')[0]; s.parentNode.insertBefore(ga, s); })();