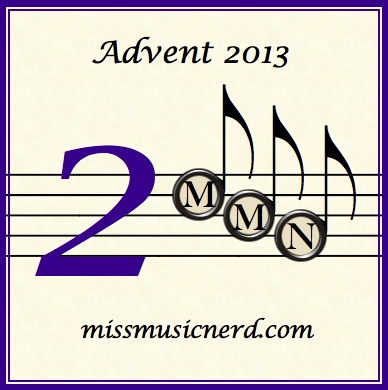 Day 2: J.S. Bach, Chorale Prelude on "Wachet auf, ruft uns die Stimme," BWV 645
Sleepers, Awake! That was a hard instruction for McDoc and me to follow this morning, since it was the first morning back to work after a nice and lazy Thanksgiving break spent with family. It included far more time in our pajamas than we normally spend, which was okay by me!
Another Advent hymn I've long been fond of is "Wake, Awake, For Night Is Flying," the English version of the Lutheran chorale "Wachet auf, ruft uns die Stimme," best known as the basis for a cantata by J.S. Bach. I am most familiar with it in its organ transcription form as one of Bach's Schübler Chorales. Since I'm more of a pianist than an organist, I find these pieces daunting — the pedal part is a truly independent line, not just a slightly fancied-up bass line, so if you don't have regular access to an organ for practice, you can find yourself, um, toe-tied?
Here is a wonderful performance by organist Rodney Gehrke. Check out the split screen that shows the manuals and pedalboard side by side!
Let's keep in touch!
Follow MMN on Twitter!
Like MMN on Facebook!
var _gaq = _gaq || []; _gaq.push(['_setAccount', 'UA-20853339-1']); _gaq.push(['_trackPageview']);
(function() { var ga = document.createElement('script'); ga.type = 'text/javascript'; ga.async = true; ga.src = ('https:' == document.location.protocol ? 'https://ssl' : 'http://www') + '.google-analytics.com/ga.js'; var s = document.getElementsByTagName('script')[0]; s.parentNode.insertBefore(ga, s); })();