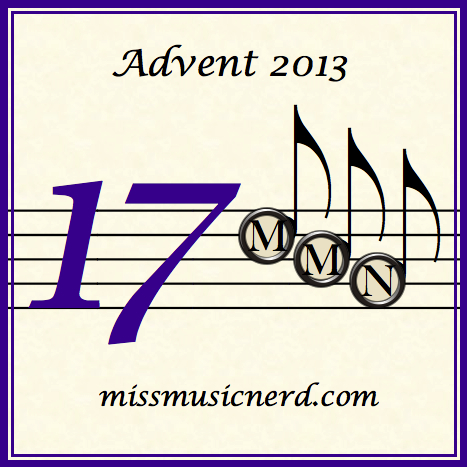 Day 17: "Harpsichord At The Holidays: Christmas Carols Past And Present," performed by Elaine Funaro
I'm a big-time public radio nerd; Commercial radio makes me crazy. So when I'm driving or puttering around the house, it's usually with a soundtrack provided by one of two stations: WESA, my local talky NPR station, or WQED, my local classical station. I'm glad I live in a region that still has a classical station — not everyone can say that!
Today while driving, I heard a mention on WQED of a CD of Christmas music arranged for harpsichord. The announcer played an excerpt from "O Come, O Come Emmanuel." I was intrigued.
The CD is Harpsichord At The Holidays: Christmas Carols Past And Present, performed by Elaine Funaro. It features contemporary carol arrangements alongside baroque works. I confess, I don't always love listening to the harpsichord — I'm a gooey romantic gal; apologies to my many early-music-enthusiast friends! But I can appreciate the harpsichord for what it does well, and many traditional Christmas carols sound perfect on it. That's not surprising, really, when you consider how many carols date from the 16th and 17th centuries, times when the harpsichord was the state-of-the-art keyboard instrument, along with the organ.
Here are a few songs that work especially well, I think. The arrangements are by Edwin McLean.
"What Child Is This?"

Pat-A-Pan (another redemption of an otherwise slightly irritating song, similar to Day 15!)

Good King Wenceslas

The whole disc is worth a listen!
Let's keep in touch!
Follow MMN on Twitter!
Like MMN on Facebook!
var _gaq = _gaq || []; _gaq.push(['_setAccount', 'UA-20853339-1']); _gaq.push(['_trackPageview']);
(function() { var ga = document.createElement('script'); ga.type = 'text/javascript'; ga.async = true; ga.src = ('https:' == document.location.protocol ? 'https://ssl' : 'http://www') + '.google-analytics.com/ga.js'; var s = document.getElementsByTagName('script')[0]; s.parentNode.insertBefore(ga, s); })();