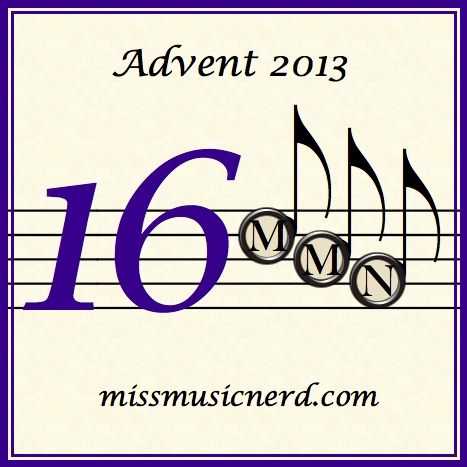 Day 16: "God Rest Ye Merry Gentlemen," English carol
Have you heard of Postmodern Jukebox? If you haven't, you should know about them, because they are very cool. They take pop songs that seem vapid and trivial in their mass-market form, and transform them into arty gems by applying a variety of legit genres, including ragtime, bluegrass, and swing. I was introduced to them by my fellow GRAMMY-blogging buddy Baron Lane over at Twang Nation, who kindly consoled me when I was having some issues with a certain very popular song by pointing me toward a vastly improved version of it.
What does all that have to do with Advent, you ask? Well, nothing, except that I'm extra-glad I got hipped to Postmodern Jukebox in time for the holidays, because they've recently released a fabulous rendition of "God Rest Ye Merry Gentlemen," which they describe as an Acoustic Electro Swing Hiphop Version. It's far from my favorite Christmas song, but I find that just about any song becomes an appealing toe-tapper if you apply some stride piano to it, and the vocals, both swing and hip-hop-style, are perfect. Behold!
Let's keep in touch!
Follow MMN on Twitter!
Like MMN on Facebook!
var _gaq = _gaq || []; _gaq.push(['_setAccount', 'UA-20853339-1']); _gaq.push(['_trackPageview']);
(function() { var ga = document.createElement('script'); ga.type = 'text/javascript'; ga.async = true; ga.src = ('https:' == document.location.protocol ? 'https://ssl' : 'http://www') + '.google-analytics.com/ga.js'; var s = document.getElementsByTagName('script')[0]; s.parentNode.insertBefore(ga, s); })();