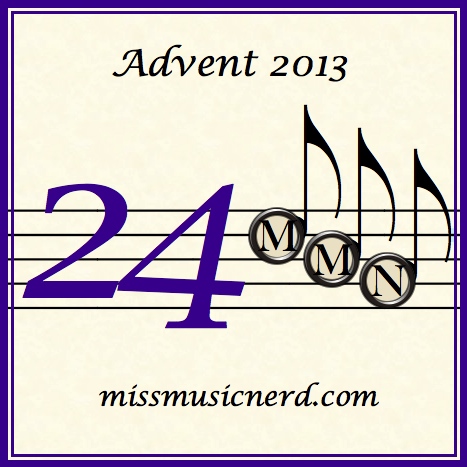 Day 24: "O Little Town of Bethlehem," words by Phillips Brooks; music by Lewis Redner
This song is a sentimental favorite of mine. I've always found it very calming, like a lullaby, yet it's poignant at the same time. There's enough chromaticism to make a late 19th-century German romantic swell with joy!
Philadelphia Brass Ensemble

If you think too hard about the text, it can begin to seem absurd. First of all, what is it with Christmas songs and all this stillness and silence? I'm pretty sure that the scene of a young woman giving birth for the first time, in a stable, would involve plenty of noise. But the concept is attractive for us today, at a time of year that can be ridiculously hectic.
Then there's the whole "this world of sin" angle. I'm not much for original sin-based theology, but the concept that things that are royally screwed up can get better, even if the people involved don't deserve it, certainly does give one hope.
And then there's this:
The hopes and fears of all the years
Are met in thee to-night.
This, to me, brings up the concept that we all want the same things out of life: love, fulfillment, well-being, a decent coffee place (or whatever you're into). And the idea that one event or person can make everything okay is a bit… much to expect, or something. But it makes for a nice story, and as Liz Lemon once said, "People need stories!"
Leonard Bernstein and the Mormon Tabernacle Choir

Let's keep in touch!
Follow MMN on Twitter!
Like MMN on Facebook!
var _gaq = _gaq || []; _gaq.push(['_setAccount', 'UA-20853339-1']); _gaq.push(['_trackPageview']);
(function() { var ga = document.createElement('script'); ga.type = 'text/javascript'; ga.async = true; ga.src = ('https:' == document.location.protocol ? 'https://ssl' : 'http://www') + '.google-analytics.com/ga.js'; var s = document.getElementsByTagName('script')[0]; s.parentNode.insertBefore(ga, s); })();