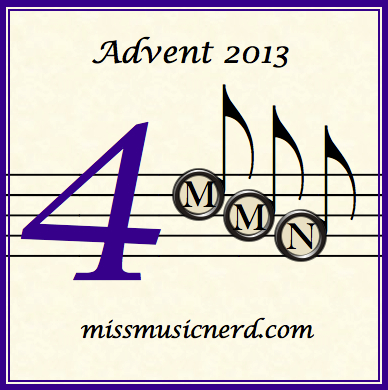 Day 4: Benjamin Britten, "This Little Babe" from A Ceremony of Carols
A Ceremony of Carols by English composer Benjamin Britten is a well-loved and frequently-performed choral work for the Christmas season, scored for treble voices (women, girls, or boys) and harp. 2013 is Britten's centenary year, so there may be even more performances than usual this month. Here is a worldwide listing of them, from britten100.org, a website dedicated to celebrating the centenary.
I was a little bit ahead of the game — I got to sing this piece last year with my
church
choir. All eleven movements are bewitching in their own ways, but I think my favorite one to sing is "This Little Babe." Like much of Britten's music, it's deceptively simple; the tune goes up the scale pretty straightforwardly, but then skips down from the tonic to the 5th to the tonic an octave below. Singing those skips in tune is wicked hard, as my Boston friends might say, especially at the breakneck tempo Britten indicates.
But wait, there's more! After the unison first verse, the tune returns in two-part canon, then three-part canon, with the entrances stacked so close together, it sounds more like the reverberations of one part sung in a very large shower. (That's the effect Britten was going for, right?) And that means you really have to be on your toes if you want to keep up with your own part while the others echo in your ear. It's difficult, yet exhilarating!
Here's a performance by the Elektra Women's Choir:

And here's a fantastic cover version I just found by a group called the Portland Cello Project, which I'm wondering why I haven't heard of before now!

Let's keep in touch!
Follow MMN on Twitter!
Like MMN on Facebook!
var _gaq = _gaq || []; _gaq.push(['_setAccount', 'UA-20853339-1']); _gaq.push(['_trackPageview']);
(function() { var ga = document.createElement('script'); ga.type = 'text/javascript'; ga.async = true; ga.src = ('https:' == document.location.protocol ? 'https://ssl' : 'http://www') + '.google-analytics.com/ga.js'; var s = document.getElementsByTagName('script')[0]; s.parentNode.insertBefore(ga, s); })();