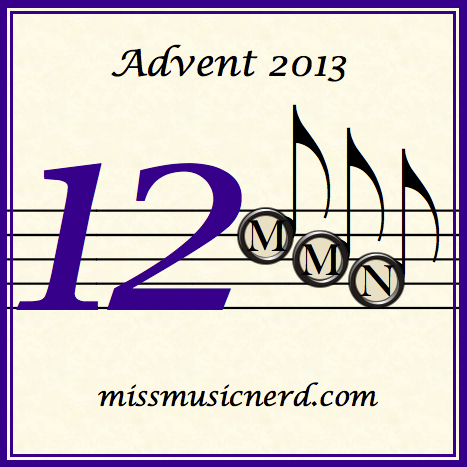 Day 12: "Ríu Ríu Chíu," 16th-century Spanish Carol
When McDoc and I lived in Boston, we sang with a wonderful choral group, Masterworks Chorale. The group puts on three concerts each year at Sanders Theatre on the Harvard campus, plus a long-running sing-along Messiah — the 52nd annual edition is happening this weekend in Lexington, Mass, so if you're in the greater Boston area, check it out!
Each December, our wonderful music director Steven Karidoyanes took a small contingent of chorale members to sing for the young clients of Horizons for Homeless Children, a Boston organization serving the economic and educational needs of homeless kids and their families. I confess that your music nerd doesn't really know what to do around little kids, which is why I teach college. Still, I think I did an okay job leading "I'm a little Snowman," sung to the tune of "I'm a Little Teapot," because I am a goofball — maybe that's why I was drafted for the job! It was amazing to see how the kids responded to hearing four-part harmony up close and personal, and I felt honored to play a small role in brightening their holiday season. (Click here to donate to Horizons for Homeless Children, a very worthy cause!)
One of the songs we always sang was the Spanish carol "Ríu Ríu Chíu." It's rhythmically lively and fun to sing, and I got to play a tambourine!
Here is perhaps the definitive version, by the Boston Camerata:

But I must say I'm partial to the cover by the Monkees, dodgy intonation and all!

Let's keep in touch!
Follow MMN on Twitter!
Like MMN on Facebook!
var _gaq = _gaq || []; _gaq.push(['_setAccount', 'UA-20853339-1']); _gaq.push(['_trackPageview']);
(function() { var ga = document.createElement('script'); ga.type = 'text/javascript'; ga.async = true; ga.src = ('https:' == document.location.protocol ? 'https://ssl' : 'http://www') + '.google-analytics.com/ga.js'; var s = document.getElementsByTagName('script')[0]; s.parentNode.insertBefore(ga, s); })();