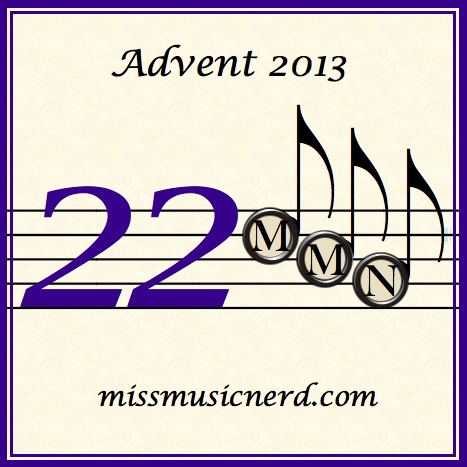 Day 22: "In Dulci Jubilo," attributed to Heinrich Seuse
It's a dream of mine to attend the Festival of Nine Lessons and Carols presented at King's College Chapel in Cambridge, England every year on Christmas Eve. The service, which alternates Bible readings and Christmas music, has been held there since 1918, and is broadcast by the BBC since 1928. The lessons and carols format was devised by Anglican bishop Edward White Benson (who later became Archbishop of Canterbury) in 1880, and it has become an annual tradition in many corners of the Church of England and its U.S. counterpart, the Episcopal Church. McDoc and I sang in such a service last weekend, in fact!
Here's a piece that is traditionally included in the King's College service, and it's also one of my favorite Christmas tunes. I was surprised to learn that "In Dulci Jubilo" was written in the 14th century; I assumed it was a Renaissance or Baroque-era tune. I love this choral arrangement by English composer Robert Pearsall:

And then there's this great organ setting by J.S. Bach:

McDoc has to work all this week, sadly, so we won't get to King's Chapel on Tuesday… Maybe next year!
Let's keep in touch!
Follow MMN on Twitter!
Like MMN on Facebook!
var _gaq = _gaq || []; _gaq.push(['_setAccount', 'UA-20853339-1']); _gaq.push(['_trackPageview']);
(function() { var ga = document.createElement('script'); ga.type = 'text/javascript'; ga.async = true; ga.src = ('https:' == document.location.protocol ? 'https://ssl' : 'http://www') + '.google-analytics.com/ga.js'; var s = document.getElementsByTagName('script')[0]; s.parentNode.insertBefore(ga, s); })();