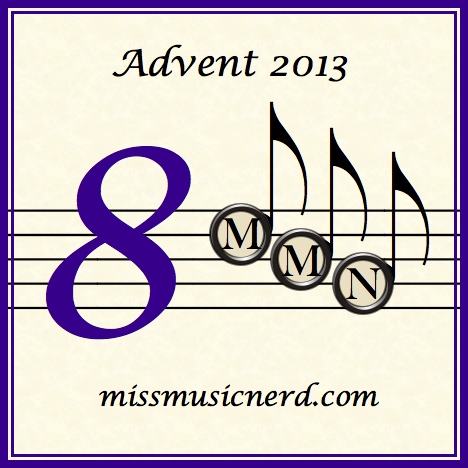 Day 8: Franz Biebl, "Ave Maria"
I grew up in the Lutheran Church, which explains my love of hymns, as well as a few of my endearing personality quirks. McDoc, on the other hand, was raised Roman Catholic, and we often tease each other, Garrison Keillor-style, about the way our respective backgrounds compare and contrast.
One of the big differences concerns dogma and doctrine around the Blessed Virgin Mary. McDoc is a Marian veneration enthusiast, while I was raised to view it as idolatry, and therefore verboten, according to Uncle Martin. We were married in the Episcopal Church, which accommodates a variety of perspectives on the topic. I have developed an appreciation for Catholic Kitch, and McDoc is doing his best to remember what my favorite hymn tunes are — it's all good.
Today is the Feast of the Immaculate Conception, so an Ave Maria is in order. I've always been sort of lukewarm toward the traditional Schubert setting, having played it many times as a workaday vocal accompanist. But then I heard the Franz Biebl version, and I was almost ready to buy myself a rosary. Almost.
It's so luscious and chromatic and decadently late-romantic-sounding! I was quite surprised to learn that it was composed in 1964. It was popularized by kick-ass vocal group Chanticleer, and I first heard it on their CD Our Heart's Joy: A Chanticleer Christmas, which has gotten heavy rotation in my household every December since I first encountered it.
Here's video of a live performance:

Let's keep in touch!
Follow MMN on Twitter!
Like MMN on Facebook!
var _gaq = _gaq || []; _gaq.push(['_setAccount', 'UA-20853339-1']); _gaq.push(['_trackPageview']);
(function() { var ga = document.createElement('script'); ga.type = 'text/javascript'; ga.async = true; ga.src = ('https:' == document.location.protocol ? 'https://ssl' : 'http://www') + '.google-analytics.com/ga.js'; var s = document.getElementsByTagName('script')[0]; s.parentNode.insertBefore(ga, s); })();