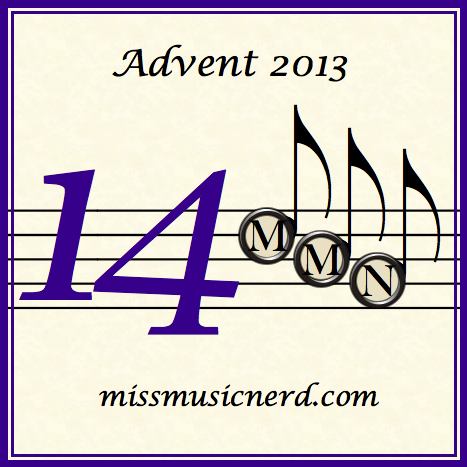 Day 14: Leroy Anderson, "Sleigh Ride"
When I first arrived in Pittsburgh 18 months ago, I was eager to find ways to get involved in the local music scene. I happened to meet someone who played in a church handbell choir that had an opening, and I was happy to join in. I had played bells in middle school and high school and remembered it fondly.
When I went to my first rehearsal, I was struck by how friendly everyone was and how much fun they had playing together. I came home afterwards and said to McDoc, "The level of musicianship is really high, but nobody's an a%$hole!" That's not always the case in some corners of the music world, though if you tell anyone I said so, I'll deny it!
So I've really enjoyed getting back into it, but I have experienced what is a common problem for adult music learners (or re-learners) of an instrument: I understand the music better than I can play it, and that can be frustrating. Especially in this case, since we rehearse at a church, so I can't cuss when I screw up! And there are plenty of tricky little things to bell-ringing, for example:
Bell changes: you often have more bells to play than you have hands, so there's a lot of picking up and putting down to keep track of, especially when there's a key change.
You're always hocketing: since the notes are distributed among many ringers, rhythms that might be simple for one person to play can become treacherous. It's like a high-stakes rendition of "B-I-N-G-O."
So many bells, so little time: the bells range in size from as small as a sherry glass to bigger than your head, and the playing techniques vary depending on where you are in the range. On the high end, you have to learn how to play two bells in each hand, and on the low end, you have to figure out how to ring your bells with rhythmic precision without throwing your back out!
Several of the folks in my handbell choir also play in a more advanced community group, Three Rivers Ringers. I heard them perform their Christmas program last night, and they were dazzling. They have several videos on their youtube channel, but one of my favorites was "Sleigh Ride", the winter song that has been co-opted for the Christmas season. It included plenty of percussion, including a whip and a nice clippity-cloppity horse sound (done with some sort of woodblocks, as opposed to the traditional coconuts.)
I was curious as to how they would handle the neighing horse sound effect at the end of the song. Watch the video all the way to the end to see for yourself! (Too bad the camera didn't go close up!)
Visit Three Rivers Ringers online to learn more. They are recording a CD very soon; like them on Facebook to stay informed about its release!
Let's keep in touch!
Follow MMN on Twitter!
Like MMN on Facebook!
var _gaq = _gaq || []; _gaq.push(['_setAccount', 'UA-20853339-1']); _gaq.push(['_trackPageview']);
(function() { var ga = document.createElement('script'); ga.type = 'text/javascript'; ga.async = true; ga.src = ('https:' == document.location.protocol ? 'https://ssl' : 'http://www') + '.google-analytics.com/ga.js'; var s = document.getElementsByTagName('script')[0]; s.parentNode.insertBefore(ga, s); })();