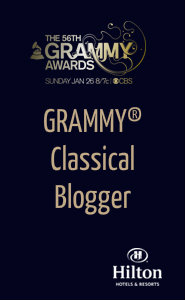 2013 is drawing to a close, and I just realized I'll be flying to Los Angeles for GRAMMY week just about a month from today! So I'm contemplating both the classical nominations and year in classical music in general. The list of nominated recordings is kind of like a thumbnail sketch of the classical scene for the year (roughly speaking — the eligibility period was October 1, 2012 to September 30, 2013). Of course, there's so much happening in classical music, it's impossible to capture it all in any one brief summary. Here are some of the highlights that caught my attention, both nominee-related and beyond.
The world of contemporary classical music continues to be vibrant and exciting, even if too few people know about it. One of this year's GRAMMY nominees for Best Contemporary Classical Composition, Caroline Shaw, is also the youngest composer to win the Pulitzer Prize for music.
2013 was a milestone year for a several important composers: it was the centenary of Benjamin Britten and Witold Lutosławski, and the bicentenary of Giuseppe Verdi and Richard Wagner.
Britten's 100th birthday year was celebrated worldwide with performances of his music, not only in the U.S. and his native England, but also in Brazil, Chile, China, Israel, Russia, Turkey, Japan and New Zealand. Illinois State University held a Britten Symposium that offered scholarly presentations, film screenings, and historical exhibits as well as performances, including the War Requiem, a monumental work for chorus and orchestra that I dream of singing in one day. A recording of Britten's opera The Rape Of Lucretia was nominated for a GRAMMY in the Best Opera category.
Lutosławski may not be as widely known or performed as Britten, but he was thoroughly feted this year as well, in his native Poland as well as England, France, Germany, Spain, Italy, Slovenia, and Japan. Here in the United States, the Los Angeles Philharmonic programmed several of his works under the direction of Esa-Pekka Salonen, and the orchestra's recording of Lutosławski's Symphony No. 1 is up for a Best Orchestral Performance GRAMMY.
The Metropolitan Opera mounted a daring new staging of Verdi's Rigoletto, moving the setting from 16th-century Mantua to 1960s Las Vegas, and recasting the womanizing Duke as a rat-pack-style singing star and the court jester as a stand-up comic. 60 Minutes aired a story on the production that changed many people's view of what opera can be – at least judging by the reactions of students in my music appreciation class, who were surprised to learn of an opera performance they'd be interested to attend!
A recording of Wagner's Ring Cycle won the GRAMMY for Best Opera Recording last year, and another recording is nominated this year. His bicentenary was celebrated at the annual Bayreuth Festival and elsewhere, but my favorite commemoration is "A Wagner Birthday Roast" in The New Yorker, a collection of parodies including a brilliant rag-time adaptation of Wagner's greatest themes.
We lost some great classical musicians this year, including pianist Van Cliburn, who won a GRAMMY for Best Classical Performance in 1958 and received a GRAMMY Lifetime Achievement Award in 2004. French composer Henri Dutilleux died at the age of 97; he was still composing in this 90s. We also lost English composer Jonathan Harvey, and conductors James DePreist and Sir Colin Davis.
I attended several fabulous live performances in 2013, as I discovered that my new hometown of Pittsburgh has more going on in classical music than I expected. Two highlights: Renée Fleming in recital in January at Indiana University of Pennsylvania, and powerhouse vocal ensemble Chanticleer in February. I also got to experience the wonderful Pittsburgh Symphony and the Pittsburgh Opera. I didn't make it to New York for that production of Rigoletto, sadly, so I really hope they release it on DVD in 2014!
What were your favorite classical music moments of 2013?
Let's keep in touch!
Follow MMN on Twitter!
Like MMN on Facebook!
var _gaq = _gaq || []; _gaq.push(['_setAccount', 'UA-20853339-1']); _gaq.push(['_trackPageview']);
(function() { var ga = document.createElement('script'); ga.type = 'text/javascript'; ga.async = true; ga.src = ('https:' == document.location.protocol ? 'https://ssl' : 'http://www') + '.google-analytics.com/ga.js'; var s = document.getElementsByTagName('script')[0]; s.parentNode.insertBefore(ga, s); })();