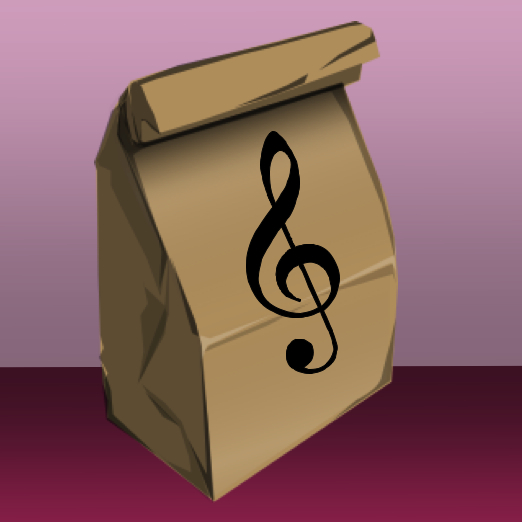 So, where did you have lunch today, Miss Music Nerd?

Why, at the Symphony, of course — where else?!
Earlier this morning, I was minding my own business, drinking coffee and reading the internet like a good modern-day bohemian, when McDoc called me to say he had heard a violinist from the Pittsburgh Symphony interviewed on the radio on his way to work, and that she was giving a lunchtime performance today. Naturally, I hightailed it down to Heinz Hall to check it out.
The violinist in question was Alison Peters Fujito, a member of the PSO's first violin section, and the event was part of Music 101, a series of informal lecture/performances organized by the Pittsburgh Symphony Association. When I heard the term "PSA" used by its members as I chatted with them prior to the lecture, I asked if it stood for "Pittsburgh Symphony Admirers." They said maybe it should!
Ms. Peters Fujito titled her talk "Never Say Never," since the story of how she came to be a professional violinist included several of what she called "never" moments. "We all have 'never' moments in our lives," she added. Ain't that the truth?
The most dramatic such moment for her was when she suffered a shoulder injury after being struck by a car while riding her bicycle. Recovering from that injury kept her out of orchestral playing for a year and a half, but through a diligent process of physical therapy, along with keeping her fingers limber using her daughter's 1/16 size violin, she has been able to return to full function.
But that wasn't the first bump in the road for her, though her story refutes what she called the "common misconception" that a violinist must come from a musical family and begin playing by age 4 in order to succeed. She started violin lessons as an 8-year-old, at her mother's encouragement, but didn't love it; she was more interested in the "gleaming Steinway" in her violin teacher's studio. A beginning violinist's first efforts "don't always sound pretty," she said, but she enjoyed picking out scales on the piano. Her teacher was not amused, though, and told her mother she was "unteachable."
She tried violin lessons again at age 11, but still didn't like it much. What made all the difference for her was the music program at her high school, taught by Mr. Ackerman, who she referred to as a real-life Mr. Holland. He was a violist (viola power!) who turned down a position with the St. Louis Symphony in favor of teaching, which at the time offered a better living for him and his family.
Because of this teacher and this school program, Ms. Peters Fujito was introduced to ensemble playing — full orchestra, string orchestra, chamber music, the works! Saturdays were spent playing string quartets instead of hanging out at the mall. At her first orchestral concert, it hit her that "this is what I want to do!" …And then her stand partner nudged her to keep playing!
But another "never" moment occurred during her senior year as a violin major at the University of Cincinnati. A conductor told her, "You don't have what it takes" to be a professional. She figured she was done, and told her violin teacher so. But she still had a senior recital to give, and decided to give it her all, so as not to go out "with her tail between her legs."
Her teacher suggested she learn the Sonata No. 4 by Eugène Ysaÿe, from his set of six unaccompanied violin sonatas inspired by similar works of J.S. Bach. "Something kicked in while learning it," she said, and "next thing I knew, I was getting a Master of Music at Juilliard!"
Ms. Peters Fujito performed the Ysaÿe sonata for us this afternoon. She related how the early 20th-century Belgian violinist, composer and conductor was inspired to write his six sonatas after hearing Joseph Szigeti one of the Bach pieces. Ysaÿe "locked himself in his room overnight," she said, sketching out ideas for his pieces, then completing them within a few days. They're like "Bach on steroids," she said describing how they were completed in 1923, during the Jazz Age, and though not literally jazzy, they are very improvisatory.
I didn't get a field recording of Ms. Peters Fujito's performance, but here is the Ysaÿe sonata played by Judith Ingolfsson.

Another "never" moment that Ms. Peters Fujito relayed was her audition for the Detroit Symphony early in her career. The judges thought she played well, but didn't like her sound — a product of playing on a not-great instrument. She told them she needed to get a good job before she could buy a great instrument, and they let her know that it's common practice to borrow an instrument for important occasions such as a major audition. Another instance where a "never' moment turned into a vital learning experience!
Eventually she did acquire a much better violin, and won the audition for the Pittsburgh Symphony, which came with a good salary and one day off per week — not something a professional player can always count on! When she told her mother about the job and its perks, she found out that her mother still harbored hopes of her going to medical school; she had always encouraged violin study, but feared her daughter would starve if she made it her career. "You can take your science courses on your day off," she said!
Instead, she married a chemistry professor. Music and science make a good team, as McDoc and I can tell you!
At the end of her talk, an audience member asked what that conductor from her college days had to say after her senior recital. She replied that they hadn't talked, though she had been tempted over the years to let him know how she was doing!
I found Ms. Peters Fujito's story both inspiring and moving; I have had a few "never" moments myself, and I resolve now to see the past ones as learning experiences and the future ones as opportunities. I also see this as a cautionary tale for music educators, having been on both sides of that relationship: what an educator says to a student can have a life-long impact, so it's vital that educators take exquisite care in giving feedback and guidance to students. Sadly, humans too often act from negative states — impatience, egotism, envy, what have you — with lasting bad effects.
By the way, Ms. Peters Fujito also mentioned that Eugène Ysaÿe was dismissed from the Conservatory of Liège at one point, for "lack of progress." The rest, as they say, is history!
---
There's one more opportunity to have lunch with the PSO this spring: on Thursday, April 11, 12:30 pm, percussionist
Christopher Allen
will share "
Tales from the Back
." If your weekday business takes you anywhere near downtown Pittsburgh, check it out, and tell 'em Miss Music Nerd sent you!
Let's keep in touch!
Follow MMN on Twitter!
Like MMN on Facebook!
  var _gaq = _gaq || [];   _gaq.push(['_setAccount', 'UA-20853339-1']);   _gaq.push(['_trackPageview']);
  (function() {     var ga = document.createElement('script'); ga.type = 'text/javascript'; ga.async = true;     ga.src = ('https:' == document.location.protocol ? 'https://ssl' : 'http://www') + '.google-analytics.com/ga.js';     var s = document.getElementsByTagName('script')[0]; s.parentNode.insertBefore(ga, s);   })();