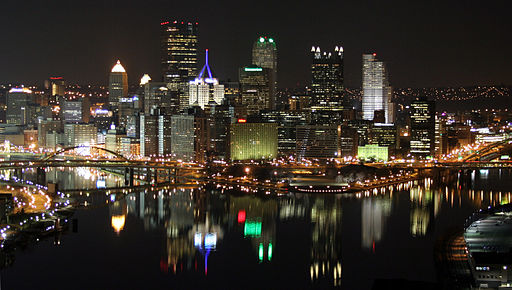 I've gone nationwide, music nerds!
NewMusicBox is an online magazine dedicated to living composers and their music. It's been around since 1999, which is a pretty long time in internet publishing terms. I'm very excited to share that I was recently asked to write a series of articles for them about contemporary classical music in Pittsburgh!
It's part of an initiative to highlight different regions around the country and get the scoop on the local music scene from a local music person. I'm honored that they asked me, since I'm still relatively new in town. But I've been trying to spread the word about how great the music scene is here ever since I started to become familiar with it. It's great to be able to bring that message to wider platform!
My first article, about local chamber groups, was posted today: Postcard from Pittsburgh: Contemporary Chamber Music Thrives in the Steel City. Here's an excerpt:
Pittsburgh has more going on in new music, and the arts in general, than you would expect for its size (around 300,000 people in the city, and 2.4 million in the metro area). This is due in part to a high density of universities with good music programs located along a four-mile stretch of Forbes Avenue, including Carnegie Mellon and University of Pittsburgh–both with strong composition programs–and Duquesne University, which turns out great performers. New music events aren't confined to the academic year, though; when summer comes and many cities offer little in the way of classical music besides orchestral pops, Pittsburgh has more modern sounds than you can shake a 4th of July sparkler at.
But you have to go read the whole thing to find out how I worked a baseball reference into a discussion of contemporary classical chamber music. I had to lay down afterwards!
var _gaq = _gaq || []; _gaq.push(['_setAccount', 'UA-20853339-1']); _gaq.push(['_trackPageview']);
(function() { var ga = document.createElement('script'); ga.type = 'text/javascript'; ga.async = true; ga.src = ('https:' == document.location.protocol ? 'https://ssl' : 'http://www') + '.google-analytics.com/ga.js'; var s = document.getElementsByTagName('script')[0]; s.parentNode.insertBefore(ga, s); })();