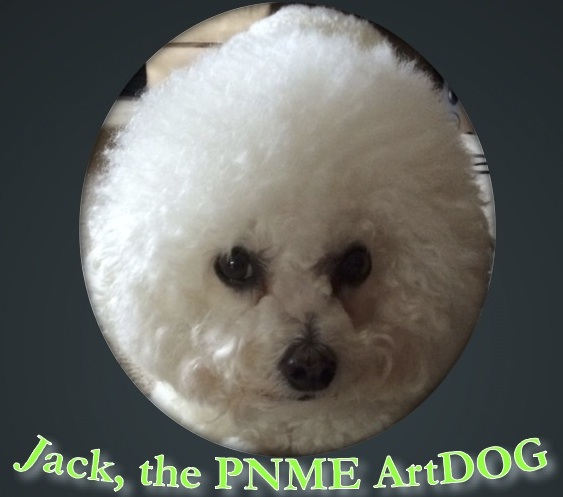 Confession: in addition to being a music nerd, I am a hardcore NPR nerd. So I am intimately familiar with the agony of the pledge drive. The bills have to get paid somehow, but I swear if I hear that phone number one more time… So I'm happy to say that the current fundraising juggernaut I'm involved with has more going for it than repetition! It has dogs and cats! Watch the video here!
It also has music (of course) and desserts (OF COURSE!)!
On Thursday, October 2nd, I'll be performing as part of the Pittsburgh New Music Ensemble's ArtsDOG Salon! Here are the details, along with an adorable Bichon Frisé!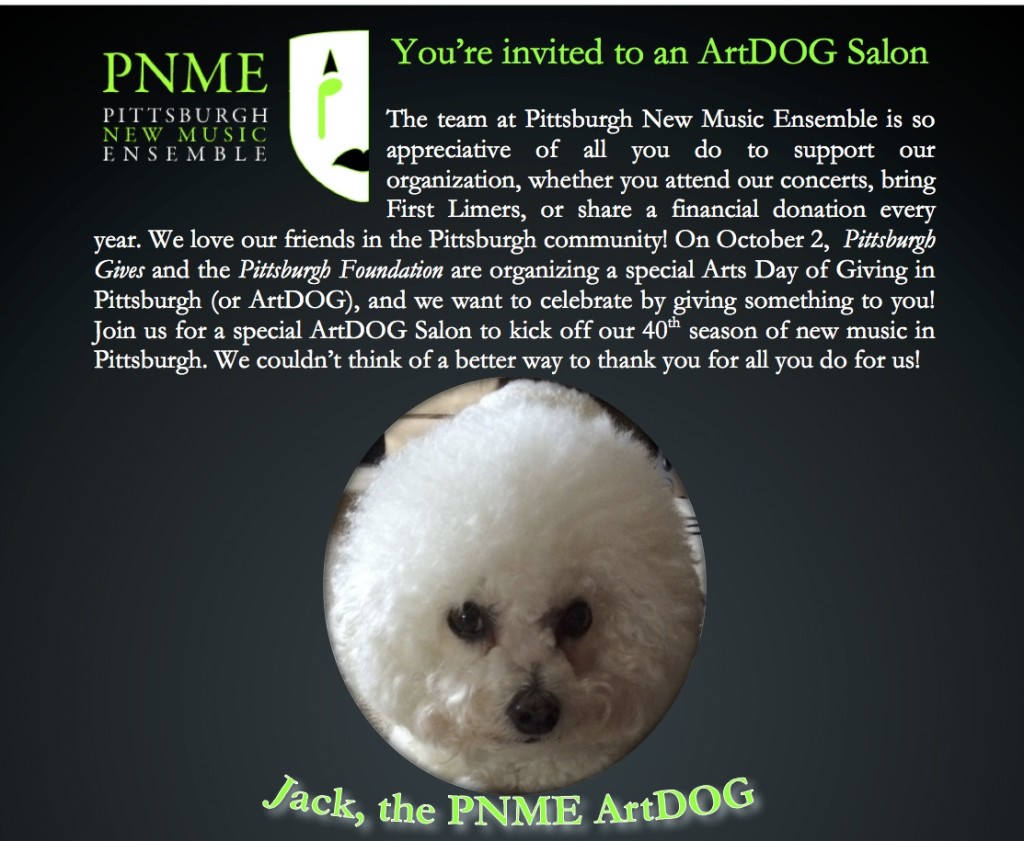 WHAT: A world premiere arrangement, featuring you, led by our new Director of Education Jennie Dorris!! PNME's flutist Lindsey Goodman will perform works by Pittsburgh composers Eric Moe and Roger Dannenberg, and you'll also hear a special performance by our newest member of the PNME Board of Directors, pianist, composer, and blogger Linda Kernohan (aka Miss Music Nerd) Desserts will be served.
WHEN: Thursday, October 2 at 8 pm
WHERE: Alumni Concert Hall, College of Fine Arts, Carnegie Mellon
University, 5000 Forbes Avenue, Pittsburgh, PA 15213
PRICE: Free!!
There is no charge for admission, but please let us know you're coming, and bring a
friend! Contact Pam Murchison at (412)316-5671 or pamurchison@gmail.com
ArtsDOG, by the way, stands for Arts Day of Giving. Every year, any donations made to Pittsburgh area arts organizations on this special day will be partially matched through PittsburghGives. Thursday, October 2nd is the day for 2014! As a newly minted board member of the Pittsburgh New Music Ensemble, I'm aiming to raise $1000 in donations. If you'd like to help me in that endeavor, Thursday between 6am and midnight Eastern Time would be a great day to do it! Just be sure to let me know!
Also, check out this great conversation I participated in on WQED classical radio, with host Jim Cunningham and two of my PNME compatriots, Executive Director Pam Murchison and Director of Education Jennie Dorris!
Click the play icon to listen:
[audio: http://missmusicnerd.com/blog/wp-content/uploads/pam_murchison_int.mp3]
var _gaq = _gaq || []; _gaq.push(['_setAccount', 'UA-20853339-1']); _gaq.push(['_trackPageview']);
(function() { var ga = document.createElement('script'); ga.type = 'text/javascript'; ga.async = true; ga.src = ('https:' == document.location.protocol ? 'https://ssl' : 'http://www') + '.google-analytics.com/ga.js'; var s = document.getElementsByTagName('script')[0]; s.parentNode.insertBefore(ga, s); })();