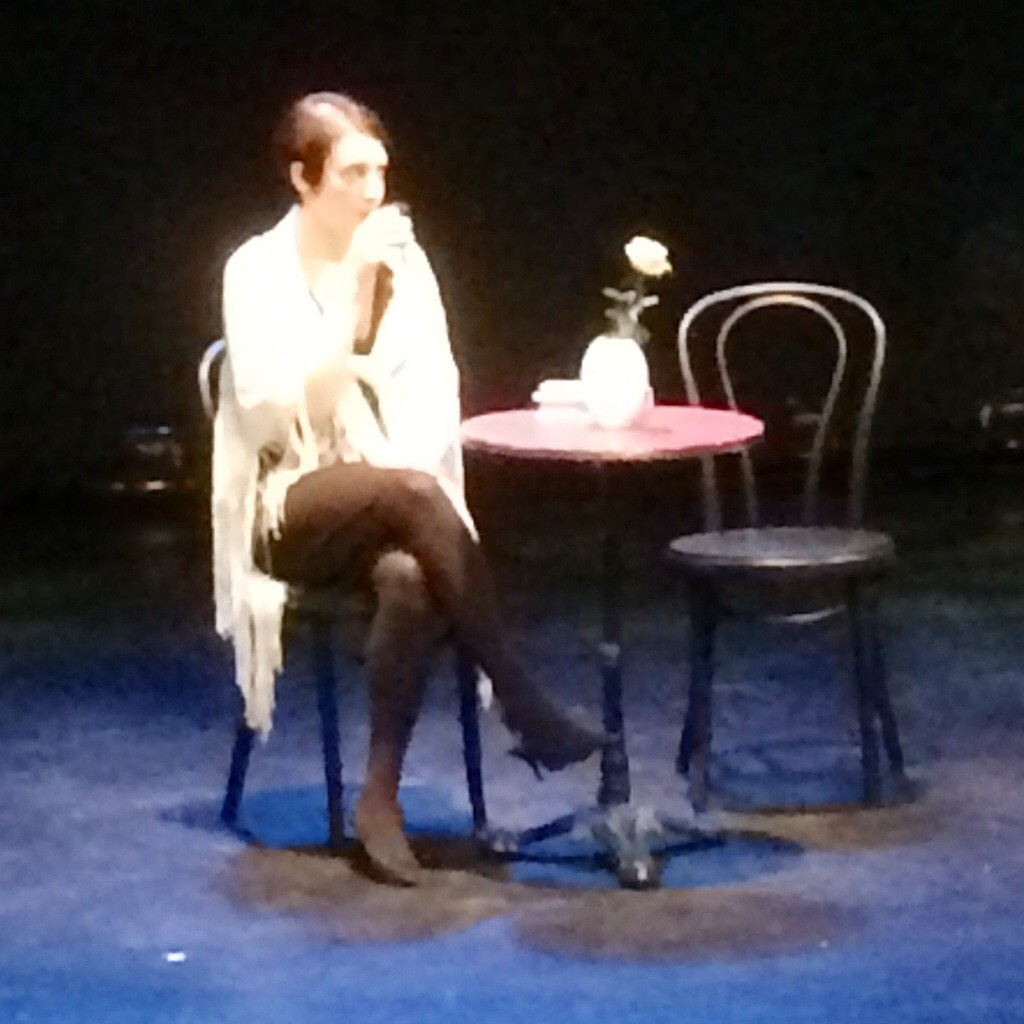 A heart-sick woman in a late-night dive thinks she's met the man of her dreams – only to discover that the river of love can be a dangerous place to swim. (Description of PNME's Drunken Moon)
Note: One more performance of this piece remains, at 8 p.m. tonight, PNME's 2014 season finale. I concur with Mark Kanny, classical music critic for Trib Total Media, that a video of this production would make the world a better place.
I love vocal music. I love hearing it and composing it. I love choosing texts, and I love writing for the voice, as do most composers, I'd venture to say. And I'm fortunate to be acquainted with many, many talented singers.
Vocal music, like every category of composition, has its conventions and pitfalls that composers need to be mindful of, whether they choose to respect convention and skillfully avoid pitfalls or revel in iconoclasm and spelunk through the pitfalls like a giddy puppy playing in a mud puddle.
Writing for the female voice in particular takes a composer into territory that I believe needs to be carefully navigated. There's probably a more elegant technical term for it somewhere, but I like to call it the Madwoman Archetype.[1] The madness of the lady in question is usually a reaction to romantic love gone wrong, and it often leads to her demise. It seems that the female singing voice is excellent at conveying heightened emotional states like ecstasy, neurosis, hysteria, etc. etc. Is this inherent, or due to how we are culturally programmed to view femaleness? It's a chicken-and-egg kind of question, for sure!
Examples abound in literature as a whole, and many have shown up in opera or other vocal music at some point. To name but a few:
These days when I encounter the Madwoman Archetype, I feel weary and impatient, and not only because I've had enough of it going on between my own ears to last a lifetime. For all its flamboyance and dramatic potential, it sharply circumscribes what a female character can be and do, and in the 21st century, we should be able to expand the palette. Have you ever noticed the high percentage of female characters whose stories revolve around their marital and/or romantic connections rather than their talents, aspirations, adventures or anything else about them? (There are some good recent examples of progress on this front, but that's another topic for another post!)
Okay. So what does this have to do with the Pittsburgh New Music Ensemble's staging of Pierrot Lunaire? I'm glad you asked! The poetry doesn't revolve around romantic love, and Pierrot the character is male, though Schoenberg wrote the piece with a particular soprano in mind, and it has been traditionally performed by a woman, who ends up looking pretty unhinged if she performs it properly.
Kieren MacMillan's Drunken Moon, the companion piece that precedes Pierrot in this production, sets up an age-old storyline: we begin with a lonely woman spending yet another evening in a cabaret, hoping to find love at long last. A handsome stranger enters, and she lights up like a firefly, but we soon see the elements of a potential romantic tragedy lining up before our eyes: the needy woman, charismatic man, the confident, flirtatious other woman, and plenty of wine. The music is romantic and bittersweet, with just a hint of the twists and turns to come, including a tango that stops just short of the final, satisfying note of its descending scale.
The gender roles established during MacMillan's piece gradually turn upside down and inside out after Schoenberg takes over. Soprano Lindsay Kesselman's female protagonist embodies the kind of melancholy vulnerability that usually becomes a self-fulfilling prophecy, but this time, her character steals the insouciant swagger of her fickle suitor as she turns the tables on him. Bass-Baritone Timothy Jones is charming and smooth as the too-good-to-be-true dreamboat who has the wind taken out of his sails. It's fascinating to watch the change in body language when they switch roles — Kesselman's movements become quick and deliberate, commanding the space beyond her petite frame, while Jones becomes still and timid, shrinking into himself like a wilted flower.
I must acknowledge soprano Catherine O'Rourke, who plays the non-singing role of the other woman with just the right amount of frivolity, sex appeal, and flirtatious laughter. She also dances the tango on a broken toe, and you couldn't even tell! Music director Kevin Noe, in a freak coincidence, was working with a broken toe as well, but managed to conduct, dance the tango, and do a stellar job playing the tango rhythm on egg shaker, which I know from experience is much harder than it looks.
In the end, we're not sure who or what is real, and we've been on a psychological journey that feels long, but delivers us back on our own doorstep, albeit irrevocably changed.
---
[1]
In my own mind, I call it the Crazy Lady Archetype, but that nomenclature automatically conjures images of multiple cats, and that's not what I'm going for here, much as I do love the kitties.
var _gaq = _gaq || []; _gaq.push(['_setAccount', 'UA-20853339-1']); _gaq.push(['_trackPageview']);
(function() { var ga = document.createElement('script'); ga.type = 'text/javascript'; ga.async = true; ga.src = ('https:' == document.location.protocol ? 'https://ssl' : 'http://www') + '.google-analytics.com/ga.js'; var s = document.getElementsByTagName('script')[0]; s.parentNode.insertBefore(ga, s); })();