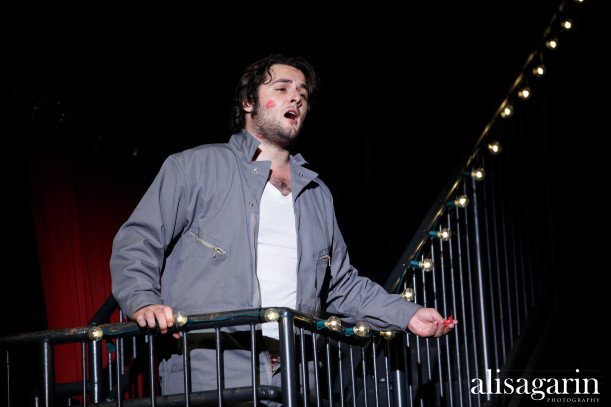 At about 9 o'clock Wednesday evening, I found myself enraptured by the voice of a man in a janitor's jumpsuit, as he sang "Una furtiva lagrima," seemingly to me alone. (That dominant minor ninth at "Si, può morir d'amor!" gets me every time!)
How did this come about, you ask? No, it wasn't some fever-dream Scrubs flashback. It was Resonance Works Pittsburgh's production of Donizetti's Elixir of Love, with staging that obliterates the fourth wall and pushes the action out into the audience, so that each patron has a front row table at Adina's Cabaret. I was one of the lucky folks who got to attend the final dress rehearsal last night in advance of a two-show run this weekend, on Friday night and Sunday afternoon.
Adina's Cabaret is warming up! @ResonanceWorks #ElixirOfLove #OperaIsTheNewCool pic.twitter.com/lv81qCAQkJ

— Miss Music Nerd (@MissMusicNerd) September 17, 2014
Elixir is a bubbly confection of an opera, a piece some of your more serious music nerds might dismiss, because the music is too pretty and the story is farcical. (That's opera, right?) But in the hands of this talented, small but mighty company, it was a comic delight.
Resonance Works transplants the story from its original Basque village to a 1950s cabaret, where Adina, the wealthy landowner, is the club's proprietress, Nemorino, the poor peasant hopelessly smitten with her, is the janitor, and the chorus members are the cabaret's waitstaff. The action centers on how the placebo effect manifests in both main characters when Dulcamara, the quintessential traveling snake oil salesman, sells Nemorino a "love potion" to help him win Adina away from Belcore, an arrogant sergeant.
The audience is seated at cabaret tables, and I chose the one front and center, because it was a dress rehearsal and I had my pick. I didn't realize just how much that choice would place me at the center of the action. The chorus members circulated through the audience as part of their serving duties, naturally, but the leads roamed just as much, all of which meant I heard opera more up close and personal than ever before. I got to admire Adina's engagement ring during her short-lived betrothal to Belcore, and I got to hear the whispers when the waitresses swore secrecy about Nemorino's sudden change of fortune. And then there was this:
Other winning elements included a bit of slapstick involving Nemorino's mop and bucket, as well as a little air guitar involving the same, and the retro-chic costumes and hairstyles in keeping with the 50s theme (Adina's dress is to die for!).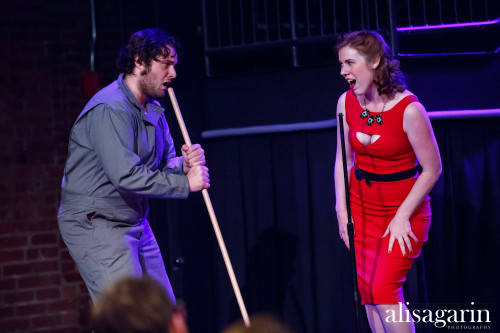 Tenor Christopher Lucier is funny and touching as Nemorino, part clown and part romantic. Lindsay Ohse's Adina is feisty and sassy, making the eventual confession of her true heart all the more poignant. Patrick McNally had just the right screwball swagger as Sergeant Belcore, bringing to mind Gaston from the Disney version of Beauty and the Beast. Kevin Glavin brings a touch of high-class used car salesman to the role of Dulcamara (if that doesn't seem like a compliment, just come see the show!), and his "Udite, udite, o rustici" is a tour de force wherein he raises the flag with a crowd-pleasing local twist. And Rebecca Shorstein is unstoppably charming Giannetta; I'd love to see her in a leading role.
Resonance Works is in its second season this year. They take an ecumenical approach to the classical repertoire, taking on opera, choral, orchestral works and more. They are showing how to achieve great things with modest forces, in a way that doesn't feel like anything is missing. I'm excited to see what they do next!
Elixir of Love will be performed tonight, Friday September 19, at 8:00 pm, and Sunday September 21, at 3:00 pm. George R. White Studio at Pittsburgh Opera, 2425 Liberty Ave. Pittsburgh, PA 15222. Tickets are $35 or $55 in advance, $40 or $60 at the door, $15 student rush. Click here to purchase.
Special thanks to Alisa Garin Photography for photos of the performance.
var _gaq = _gaq || []; _gaq.push(['_setAccount', 'UA-20853339-1']); _gaq.push(['_trackPageview']);
(function() { var ga = document.createElement('script'); ga.type = 'text/javascript'; ga.async = true; ga.src = ('https:' == document.location.protocol ? 'https://ssl' : 'http://www') + '.google-analytics.com/ga.js'; var s = document.getElementsByTagName('script')[0]; s.parentNode.insertBefore(ga, s); })();