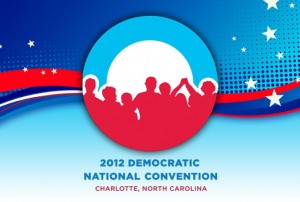 Four years ago, I turned on the TV when the Democratic National Convention began, thinking I'd watch a little, get bored, and switch to something else. But I quickly got swept up into a three-evening-long game of Name That Tune. I can be a little OCD sometimes!
Well, it's four years later, and I'm fixin' to do it again. A lot of things have changed since then; for one thing, I've been introduced to the concept of live-tweeting, which can be a fun way to narrate an event as it's happening, if you can manage not to miss the event while you're furiously typing. It lends itself very well to an event like this, though, so I started last night, and I'm typing this in between tweets tonight!
My impression from watching last night is that there's less music than four years ago. The snippets introducing each speaker are shorter, and usually instrumental only. Many come from recognizable songs, but others seem only slightly familiar, and might be generic filler music instead of excerpts from pre-existing songs. I'm not sure, but I'm doing my best to name that tune in one riff!
As was the case last time, many of the selections are classic funk or soul. And sometimes the song fits thematically with the speaker, while other times the pairings are a bit… random.
Herewith, some highlights!
[Note: In the past I've relied on YouTube for music examples. Now, I'm happy to say I've found a way embed music in a way that will deliver royalties to artists through Spotify, so I'm going to give it a try. Only downside is, you'll need a free Spotify account to play the tracks, and you have to have a Facebook account to join Spotify. Let me know what you think.]
Women from the House of Representatives came on as a group to Chaka Khan's "I'm Every Woman:"

…and walked off to "Sisters Are Doin' It for Themselves" by the Eurythmics and Aretha Franklin. Solid choices!

When Secretary of the Interior Ken Salazar came on, the instrumental snippet sounded an awful lot like the Cee Lo Green song known in polite company as "Forget You." Hmm, who's saying what to whom??

Minneapolis Mayor R.T. Rybak came on to The Jacksons' "Can You Feel It," which was cool. But when he said the line, "Pyromaniacs shouldn't blame the firefighter," I was hoping someone would cue up some Def Leppard — though a friend suggested "Disco Inferno"!


Rahm Emanuel walked on to "Wanna Be Startin' Somethin'" by Michael Jackson, which I thought was fairly clever given Rahm's feisty reputation.
Sister Sledge's "We Are Family" introduced Kal Penn, but I think it would've been better suited to a dual appearance by Maya Soetoro-Ng and Craig Robinson. Instead, they walked on to Prince's "1999." Hmph, does that mean they're outdated?


Stevie Wonder's "Signed, Sealed, Delivered" welcomed First Lady Michelle Obama, and it turned out to be quite appropriate I think it's fair to say that everyone in the house would have told her, "I'm yours!"
Let's keep in touch!
Follow MMN on Twitter!
Like MMN on Facebook!
var _gaq = _gaq || []; _gaq.push(['_setAccount', 'UA-20853339-1']); _gaq.push(['_trackPageview']);
(function() { var ga = document.createElement('script'); ga.type = 'text/javascript'; ga.async = true; ga.src = ('https:' == document.location.protocol ? 'https://ssl' : 'http://www') + '.google-analytics.com/ga.js'; var s = document.getElementsByTagName('script')[0]; s.parentNode.insertBefore(ga, s); })();