MMN NYC OMG!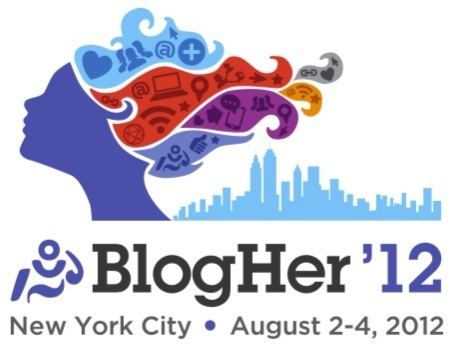 Greetings from the Big Apple, music nerds! I made a spur of the moment decision a week ago to attend BlogHer 2012, a two-and-a-half-day party, lovefest and networkapalooza for women bloggers. I got the idea from one of my favorite potty-mouthed mommybloggers (yes, there are many of them), The Bearded Iris. I've known about BlogHer for awhile now, but I've never done anything about it. Now seemed as good a time as any to change that — after all, McDoc and I just moved to Pittsburgh, and I'm fairly unencumbered at the moment. (That's a fancy way of saying I'm unemployed… or "between gigs" as we freelancers call it!)
Last minute airfare was high, so I decided to see This Great Land of Ours via Amtrak, and a wonderful friend in Brooklyn agreed to let me couch surf with her, so I didn't have to worry about New York hotel rates. I hoped the universe might reward me for my frugality, but the universe has a wicked sense of humor, and my trip has been a bit of a fiasco so far. I don't know whether it's the fault of Mercury in retrograde or my good friend Mr. Murphy, but I hope it subsides once the conference officially starts later today. In the meantime, I invite you to have a little laugh at my expense as I spin my tale of woe!
Before McDoc and I moved, several people I talked to who know Pittsburgh warned me that it's a difficult city to navigate, and that I should expect to get lost frequently. But when I visited back in March to scope out neighborhoods and look for an apartment, I really had no trouble at all. Obviously, none of these well-meaning folks have ever driven in Boston! So when I looked up directions to the train station in downtown Pittsburgh, it looked fairly simple, and I didn't worry too much about getting there in time for my 7:20 a.m. departure, even though McDoc and I hadn't had occasion to drive to that part of town before.
Well, pride goeth before the fall. Our neighborhood is a piece of cake to get around in, but downtown is a whole 'nother ball of wax. We didn't cross all three rivers on our way to the station, but we crossed more of them than we should have, and cusswords were exchanged. Still, McDoc got me there in time for my train, and he wasn't even late to work — phew!
I even had time to grab a cup of coffee in the station before settling in to my seat, where I was eagerly anticipating enjoying the breakfast I had packed for myself as part of a bag of snacks to sustain me during the 9.5-hour ride.
Well, I sure hope McDoc enjoyed some of those snacks, because they were waiting for him on our dining room table when he got home.
I tip my hat to the nice man working in the train's café car, who admirably wrangled the hungry hordes who were as unprepared as I, but after spending $15 total on breakfast and lunch, it occurred to me that I would have been better off both financially and nutritionally if I had just downed a bag of white flour. I spent the afternoon dreaming of vegetables.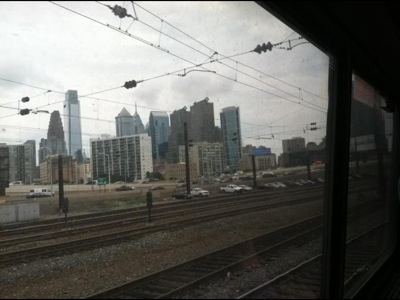 Passing through Philly
In spite of the food situation, the ride was quite comfortable. The seats had about 3 times the legroom of the average plane seat, and featured leg rests and reclining seat backs. I wished I had thought to bring a travel pillow and blanket, as other more seasoned train travelers did, but I was able to do some serious napping — a good thing since I have a bad habit of staying up too late the night before I travel. It would have been the perfect opportunity to listen to music on my smartphone… If I had remembered to bring earbuds.
Oh well. I had plenty of reading material, and the trip went by fairly quickly. After we pulled into Penn Station, I figured I was home free — a simple subway ride away from an evening of quiet relaxation. After all, I used to live in Brooklyn — how hard could this be?
Ha!
It has been, well, a few years since I lived in New York, and what can I say? I've gone a bit soft. The first thing I wanted when I got off the train was a restroom. A public facility the size of Penn Station should surely have restrooms, right? I looked in vain for a sign indicating such a thing existed in the place, as I got caught up in the sea of people washing through the station at rush hour. After a few minutes I gave up, figuring I could wait til I got to Brooklyn, which was only a 20 minute subway ride away.
I was in New York at the tail end of the age of subway tokens, but I've been using Boston's T system for the past three years, so I had no trouble purchasing a MetroCard and sliding it at the turnstile. However, I did manage to get the telescoping handle of my rollerbag hooked onto one of the turnstile's arms, which should not be possible even if you're trying to do it on purpose. Should you ever find yourself a similar situation, dear reader, please remember that pushing the turnstile forward with a suitcase handle hanging on it doesn't accomplish much beyond getting you and your suitcase stuck in the arms of a turnstile that will no longer turn. I'm just grateful that it was rush hour, so everyone around me was in too much of a hurry to stop, point and laugh as I wrestled my suitcase free and clambered over the bars like the clumsiest petty criminal who ever lived. S-M-O-O-T-H!
Once I limped over that hurdle, I was just a simple, direct little hop on the C train away from a bathroom and a decent meal. The C train, heaven help me, ranked New York's worst subway line for the fourth-straight year..
After several A and E trains went by and a delay on the C was announced over the loudspeaker, I decided to take whatever train came next and transfer to the C down the line. My first detour took me to the World Trade Center, which is the end of the E line… but not a transfer point to the C alas. Oops. I backtracked up to Canal street, where I knew for sure the three lines converged. The A train runs express — yay! I just had to transfer at Atlantic Avenue in Brooklyn. All the trains stop there; I remember that clearly.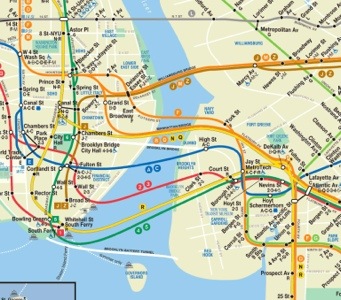 What could be simpler?
That's how I found myself at Nostrand Avenue, four stops past where I needed to go. Now, at many subway stations, if you need to change direction, you can cross over to the other track without leaving the station. But if there's a way to do that at Nostrand, I couldn't find it. That's right, ladies and gentlemen: I had to exit the station, cross the street to re-enter, and pay another fare. It was then that I realized my decision not to buy a 7-day unlimited pass for a 5-day trip was incorrect.
The C train going the non-delayed direction took its sweet dang time in coming, but it did finally arrive, and so I reached my host's doorstep a mere hour and fifteen minutes after arriving at Penn Station. I was enthusiastically greeted by my host's two extremely affectionate dogs, and I settled down on the sofa to catch my breath as my host headed out for the evening. Before I could say, "Oops, I forgot that I still have to pee!" the dogs had made themselves exquisitely comfortable in my lap, oblivious to the fact that they're far too big to be lap dogs.
I almost decided to give in and pass out under that warm and cuddly puppy pile, but after a few minutes, I was overcome by the desire to wash this day right outta my hair with a plate of Thai food and a glass of wine.
Plus, I really did have to pee.
I ventured out into the wilds of Fort Greene, and after walking a few sultry blocks, felt like I might be able to get the hang of this New York thing again, given a little time.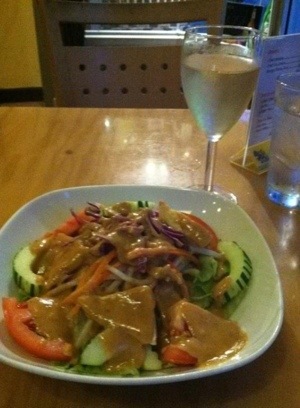 Ahhhh…
EPILOGUE: When you are greeted by ecstatic, expectant-looking dogs who've been alone in an apartment for a couple of hours, please remember that while their body language does indeed reflect their eternal devotion to you, the person they just met, it signals other things as well, and if you don't open the back door for them promptly, you will quickly learn where your host keeps the paper towels and other cleaning products.
Am I gonna rock this conference or what?!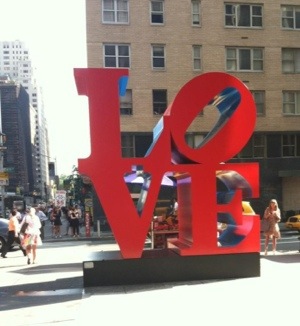 Let's keep in touch!
Follow MMN on Twitter!
Like MMN on Facebook!
var _gaq = _gaq || []; _gaq.push(['_setAccount', 'UA-20853339-1']); _gaq.push(['_trackPageview']);
(function() { var ga = document.createElement('script'); ga.type = 'text/javascript'; ga.async = true; ga.src = ('https:' == document.location.protocol ? 'https://ssl' : 'http://www') + '.google-analytics.com/ga.js'; var s = document.getElementsByTagName('script')[0]; s.parentNode.insertBefore(ga, s); })();