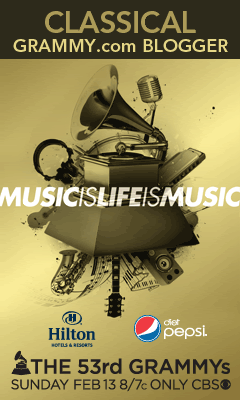 So what is this GRAMMY® Community Blogger thing all about anyway? Well, gather 'round for story time, music nerds, and I'll tell you all about it!
It was November of 2009, and I had been toiling away in classical music blogging obscurity for nigh-on two years. Actually, I wasn't completely obscure – I had been listed as one of the Top 100 Musicology Blogs. (I went to 11!) But as cool as that is, it ain't exactly the A-list.
Then one day, there I was minding my own business, when the following email flew over the transom:
Good Evening Miss Music Nerd,

I work for the Recording Academy and manage the Social Media program for the GRAMMY Awards. We would like to speak to you about participation in our Community Blogger Program for the upcoming GRAMMY Awards. If this is something you may be interested in, could you please contact me during this upcoming week? You can find out more about the GRAMMYs on various social media networks by clicking on any of the links below.

I look forward to hearing from you.
I thought to myself, "Well, that's certainly a more original come-on than the old Nigerian bank transfer bit!" I fully expected the next message to ask me for my account number. Still, I figured it couldn't hurt to reply and see what this was all about.
So I did, and it was legit – and the rest, as they say, is history! Click Mr. Readmore to meet my fellow GRAMMY bloggers!
Because I was curious enough to reply to that unexpected email, last January, I got to travel to L.A. and attend several GRAMMY Week events, including, of course, the awards broadcast. I met a few classical stars, among other wonderful people, like the bloggers representing other musical genres. I'm really excited to be participating again this year, and I'm also glad to say that the roster of GRAMMY bloggers has expanded to include Country, Jazz and Fashion.
Please allow me to introduce you to this stellar group:
We'll be meeting up in person in L.A. next week – I can't wait!
P.S. Since last year's GRAMMYs, I have graduated to the 50 Best Blogs for Exploring Classical Music. Coincidence? I think not!
var _gaq = _gaq || []; _gaq.push(['_setAccount', 'UA-20853339-1']); _gaq.push(['_trackPageview']);
(function() { var ga = document.createElement('script'); ga.type = 'text/javascript'; ga.async = true; ga.src = ('https:' == document.location.protocol ? 'https://ssl' : 'http://www') + '.google-analytics.com/ga.js'; var s = document.getElementsByTagName('script')[0]; s.parentNode.insertBefore(ga, s); })();