I'm moving up in the world, music nerds! I'll be in L.A. February 7-14 for GRAMMY® Week!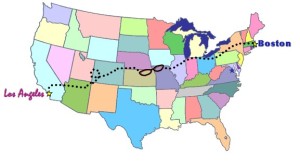 Last year, when I was invited to be the Community Blogger for Classical Music for the 52nd GRAMMY Awards, I described it as a white elephant gift: rare, beautiful, and expensive. Many wonderful friends were kind enough to chip in to help me afford the trip.
This year, I'm excited to report that I have sponsorship for airfare and lodging! Which is fantastic, but still, a nerd's gotta eat… And rent a car, too, because you know what they say about L.A.! And then there's gas and parking – you get the picture. McDoc is still a resident and Miss Music Nerd is not quite a star yet, so times are a little tight.
If any of you, dear readers, would be willing to help complete my glamorous sponsorship deal, I would be eternally grateful! You can use the Paypal links below, or contact me for my mailing address – I take checks, gifts cards, coupons, stock tips… I'm not picky! Click Mr. Readmore to see the pretty buttons!
Yes! I'll buy Miss Music Nerd coffee!

Yes! I'll buy Miss Music Nerd breakfast!
Yes! I'll buy Miss Music Nerd lunch!

Yes! I'll buy Miss Music Nerd dinner!

Yes! I'll give Miss Music Nerd some other amount!

Thanks so much! California, here I come… again!
var _gaq = _gaq || []; _gaq.push(['_setAccount', 'UA-20853339-1']); _gaq.push(['_trackPageview']);
(function() { var ga = document.createElement('script'); ga.type = 'text/javascript'; ga.async = true; ga.src = ('https:' == document.location.protocol ? 'https://ssl' : 'http://www') + '.google-analytics.com/ga.js'; var s = document.getElementsByTagName('script')[0]; s.parentNode.insertBefore(ga, s); })();