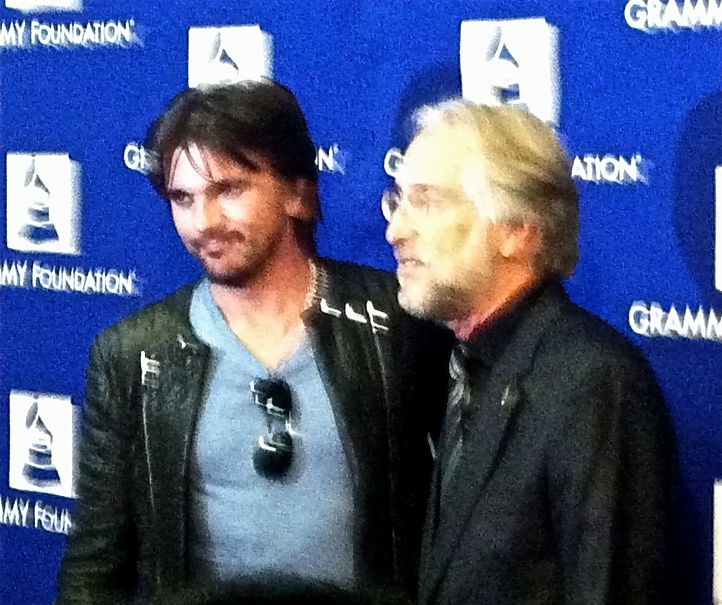 Last night, I attended my first official GRAMMY Week event: GRAMMY in the Schools Live! I heard the astonishingly talented student musicians participating in the GRAMMY Foundation's
educational programs
, joined by special guest, Latin Pop superstar
Juanes
. Before the music started, I was fortunate to get to loiter around in the media area and pretend to be a real journimalist! I arrived a little late and just missed my chance to speak with Juanes, which is too bad because I thought he might be charmed by my sup-par yet sincere attempt at speaking Spanish.
I did, however, get to talk to Recording Academy president Neil Portnow, who always seems to be everywhere at once during GRAMMY Week. The talent wranglers who arrange these little one-on-ones told me I only had time for one question, but I cheekily snuck in two, and he was very obliging in his responses.
Here's the audio clip, with a transcript below:
Neil Portnow Interview
[audio:http://missmusicnerd.com/blog/wp-content/uploads/2013/02/Neil-Portnow-Interview-edit.mp3|titles=Neil Portnow Interview]
MMN: Hi, Mr. Portnow. I'm Miss Music Nerd; I'm the classical music blogger for grammy.com.

NP: Oh, excellent!

MMN: And I just wanted to ask you, what do you think of the state of music education in primary and high schools today?

NP: Well, I think what the GRAMMY Foundation is doing is exactly what needs to be done, which is to put a focus and a spotlight on it, to put funds behind it, and to create actual programs so that young people have a chance to experience music in high schools. I think it's really quite sad that, as a country, we've let the arts slip in terms of the funding that's required for young people to be exposed to music and the arts in school. Because it's not just about developing the next generation of music-makers, though certainly that's a critical, key point. It's about becoming a good, well-rounded human being, and it's about being culturally aware, and it's about understanding so much that one gets through the heart and through the soul by being exposed to the creative elements of the arts. So, it's critical that we don't forget about that as a country, because most other civilized countries have not forgotten how important it is.

MMN: Do you think we might be able to get some more classical-related events and performances into GRAMMY Week in the future?

NP: Well, we're always looking to do that. You know, we had a wonderful program called Salute to Classical Music during GRAMMY Week.

MMN: I remember — I went when Placido Domingo was there.

NP: Part of what we need to do always is to try to take things to the next level. And we managed to move that to a bigger, better place. But part of the difficulty in the classical world is the scheduling of artists, because, as you know very well, unlike some of the other areas of music, the classical artists book themselves years in advance on worldwide tours, because they have worldwide audiences. So, to restrict it to GRAMMY Week sometimes is a little bit of a handcuff. So our idea, and our mission of what we're talking about, is to continue to have classical events, but do them when it's a good time on the calendar. And by the way, it doesn't have to be Los Angeles. New York for example — really perhaps the capital of classical music in this country. So we're in discussions about finding the right moment and the right event to do. But classical music is very important to the Academy.

MMN: Great! Well, thank you for everything you do!

NP: Oh, you're welcome — thank you.
I was very glad to know that there is some awareness of the importance of classical, and the point about scheduling is well-taken. I'm gonna keep lobbying, though! Now, I need to figure out how to get in on these other classical events he referred to! Turns out, there's more the the GRAMMYs than GRAMMY Week!
Let's keep in touch!
Follow MMN on Twitter!
Like MMN on Facebook!
var _gaq = _gaq || []; _gaq.push(['_setAccount', 'UA-20853339-1']); _gaq.push(['_trackPageview']);
(function() { var ga = document.createElement('script'); ga.type = 'text/javascript'; ga.async = true; ga.src = ('https:' == document.location.protocol ? 'https://ssl' : 'http://www') + '.google-analytics.com/ga.js'; var s = document.getElementsByTagName('script')[0]; s.parentNode.insertBefore(ga, s); })();