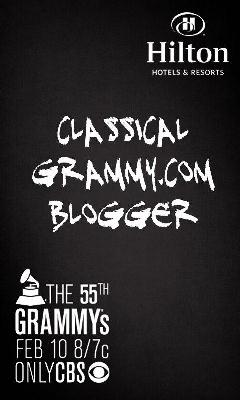 Your Music Nerd has lovingly compiled two Spotify playlists for your GRAMMY-Nominee listening pleasure! I had the idea to separate the Best Opera nominees into their own lists, since there are so many tracks in each Opera, but only one nominee, Vivaldi's Teuzzone, is on Spotify. (Two of the Opera nominees are DVD releases.) A few of the nominated recordings in other categories aren't available on Spotify at the moment, either, but there's plenty to sink your teeth into.
A list of this year's classical nominees is here.
55th GRAMMY Classical Nominees Playlist

55th GRAMMY Best Opera Nominees Playlist

Which tracks are your faves?
Let's keep in touch!
Follow MMN on Twitter!
Like MMN on Facebook!
  var _gaq = _gaq || [];   _gaq.push(['_setAccount', 'UA-20853339-1']);   _gaq.push(['_trackPageview']);
  (function() {     var ga = document.createElement('script'); ga.type = 'text/javascript'; ga.async = true;     ga.src = ('https:' == document.location.protocol ? 'https://ssl' : 'http://www') + '.google-analytics.com/ga.js';     var s = document.getElementsByTagName('script')[0]; s.parentNode.insertBefore(ga, s);   })();