Greetings, music nerds!
I must apologize — I've been away far too long, and I have plenty to catch up on. For one thing, GRAMMY season is in full swing, so stay tuned!
But for now, I bring you an assortment of fun/interesting/newsworthy links from the past week!
First, a little eye candy: If you've ever wanted to play a musical instrument but weren't sure which one was right for you, here's a handy chart, courtesy of Piesone Art (click to enlarge):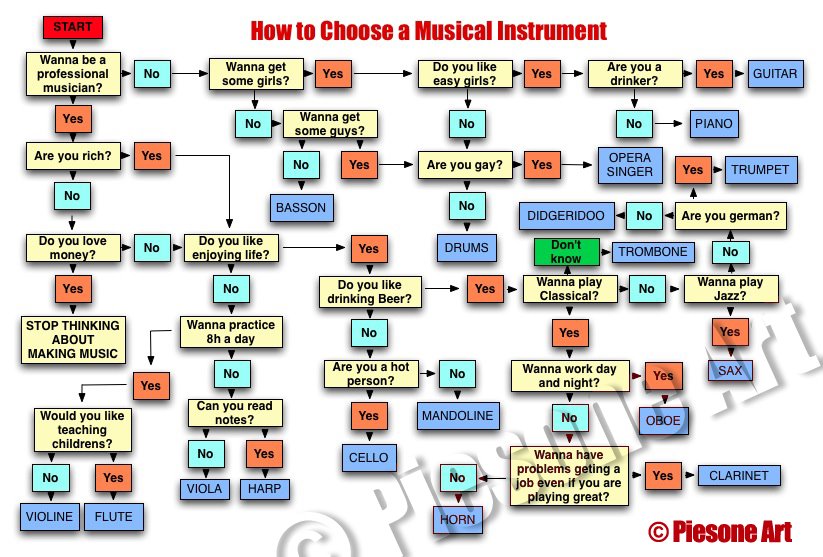 In other music nerd humor, here's the Viola Joke of the Week, brought to you by Jenn at Ain't Baroque:
Q. What's the difference between a dead snake and a dead violist lying in the middle of the road?
A. Skid marks leading up to the snake.
Want more? Here you go!
In local music news, (and another mention of a pun usually that would ordinarily make me go all Incredible Hulk, were I not won over by the style and charm of its deployment), the baroque ensemble L'Academie is running their annual fund campaign, Young, Fabulous & Baroque (far more tuneful than this
, no doubt!). Their aspiration is "50k…or 5000 $10 cocktails." In addition to their blinding musical excellence, this group has a real knack for making baroque music hip for a 21st Century audience. Check out their upcoming performance in February, The Vivaldi Code.
Beethoven and Brahms are still speaking: Music nerd-at-large Ed Tracey hipped me to two instances of famous composers making news from beyond the grave:
Mahler 9, slightly less sublime: In the biggest story of the week, the online music nerdosphere was frantically abuzz this week over an errant iPhone that went off at the worst possible moment during the New York Philharmonic's performance of Mahler's 9th Symphony, creating such a disruption that condutor Alan Gilbert stopped the performance, and a few patrons became uncharacteristically obstreperous, calling for the offending phone owner to be thrown out. Eyewitness accounts can be found here and here, and after-the-fact commentary by the conductor is here.
As it turns out, said owner (who was seated front and center for maximum exposure) had done the right thing and turned the phone off before the concert started, but didn't realize that the phone's built-in alarm clock would go off even when the phone was powered down. Also, the poor soul was hard of hearing and didn't realize at first that he was the source of the problem. He is a longtime season ticketholder not identified beyond that, for his own safety — because judging from the reactions of other patrons, we music nerds might appear mild-mannered most of the time, but mess with our gig and we will CUT YOU! Here is Patron X himself, in his own words.
I am on the record as subscribing to the view that hearing this piece of music live is a downright sacred experience; its quiet closing bars are so sublime and transporting that any interruption would indeed be upsetting. But I feel for Patron X, because you see, I too found out the hard way that a cell phone alarm is no respector of silent or off mode — during A CONCERT I WAS PERFORMING IN, no less. Fortunately I wasn't actually on stage at that moment, so I was able to shut the dang thing off right away and the music didn't have to stop!
Many commenters have called for signal jammers to be installed in all concert halls, or maybe the hiring of square-shouldered goons with sledge hammers at the ready. But such remedies are impractical, not to mention illegal in some jurisdictions. I was interested to read an account by an eyewitness who is new to the classical music scene, and was bemused at how "sophisticated people who had come for a night of culture and music and proceeded to be reduced, for a few moments, to the early stages of an angry mob." Dude has a point — veteran audience members could stand to chillax, so as not to alienate budding classical fans (though I confess to having entertained thoughts of violence toward the cough-drop-unwrapping, plastic-bag-rustling set). "Can't wait 'til I hit up the ballet and we get a streaker!" he concludes. Hey, when that happens, send me a link, would ya?
Bonus video: here's a mash-up of a Bernstein performance of the 9th with the offending Marimba ringtone, to recreate the experience for those of us who weren't there!
What's new in your music nerdosphere this week?
var _gaq = _gaq || []; _gaq.push(['_setAccount', 'UA-20853339-1']); _gaq.push(['_trackPageview']);
(function() { var ga = document.createElement('script'); ga.type = 'text/javascript'; ga.async = true; ga.src = ('https:' == document.location.protocol ? 'https://ssl' : 'http://www') + '.google-analytics.com/ga.js'; var s = document.getElementsByTagName('script')[0]; s.parentNode.insertBefore(ga, s); })();