For classical music nerds, the term 'Double Concerto' might likely bring to mind Vivaldi's many works for pairs of violins or other instruments, or for the more romantically-inclined, Brahms' Double Concerto for violin and cello. But there are many examples in the 20th and 21st centuries as well, for all kinds of instrument combinations. Last Friday night, the Boston Modern Orchestra Project gave a diverse sampling of the genre entitled Double Trouble, featuring four works composed between 1938 and 2010. Click Mr. Readmore for the full double-scoop!
Sir Michael Tippett's Concerto for Double String Orchestra
opened the program. Tippett is one of those composers that I've heard about from time to time and always meant to investigate, but hadn't gotten around to it; he tends to be overshadowed by Britten in the constellation of 20th-century British composers composers. But really I need to put him on my to-listen list now.
There were brief moments in the slow middle movement that reminded me of Bartok's Music for Strings, Percussion and Celesta
, which also employs a double string orchestra. The fast movements made me think that Tippett and Copland were transatlantic kindred spirits. Now, being a composer myself, I know that evaluation by comparison to others is not very gratifying, but what I really mean to say here is, Tippett is one of many 20th-century composers who deserve to be played more widely.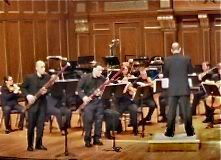 Harold Meltzer's Full Faith and Credit brought two bassoons into the spotlight, something that doesn't happen every day, but bassoonsists Ronald Haroutunian and Adrian Morejon sounded very refined and natural as soloists.
The title reflects Meltzer's background as a lawyer as well as a composer, and refers to Article IV, Section 1 of the United States Constitution, stipulating that laws and judgments enacted in one US state or territory must be respected by the others. The concept may seem arcane, but it is rather crucial at a time when a few states allow gay marriage and many more do not. The composer writes:
The seven sections of Full Faith and Credit were conceived originally as program music about gay weddings and the subsequent reception of the married couples in parts of the country perhaps less friendly to homosexuality. Different aspects of Americana appear in veiled and not-so-veiled ways throughout the piece. The double concerto… scrambles the order of the 'program' into abstract music.
Each movement has a descriptive title: Rugged, Homespun, Blistering, Viscous, Genteel, Hymn, and Rugged (an abbreviated recap of the first movement). Meltzer's music is very well-crafted, with no rough edges to speak of, so the first and last movements seemed to me more jaunty and snappy than truly rugged. The strings were indeed blistering in the third movement, while the bassoons percolated alongside. The movement titled "Genteel" did indeed seem so to me; it conjured a well-dressed gentleman out for a brisk walk, and breaking into a jog by the time it's over. The "hymn" movement was indeed beautiful, with an ethereal solo of very high harmonics played by double bass (after the piece ended, McDoc asked me, "Where was that sound coming from?").
One of the first things McDoc and I noticed when we sat down before the concert was an extensive collection of percussion instruments amassed at the back of the stage. This gear was moved forward during intermission for Mathew Rosenblum's Double Concerto for Baritone Saxophone, Percussion and Orchestra.
Percussionist Lisa Pegher and sax player Kenneth Coon displayed virtuosity and commitment that was a joy to see and hear, and the piece proved that microtonal music can really rock. (Rosenblum simultaneously uses both the traditional twelve-note chromatic octave and a 21-pitch octave based on just intonation.) But I have to confess that I couldn't really get into this sound world; it seemed fuzzy and indistinct to me. As an unrepentant pianist, I have had thus far been stubbornly resistant to the charms of microtonal music in general. Figuring out what that's all about and training my ear to dig it is another item on my musical to-do list!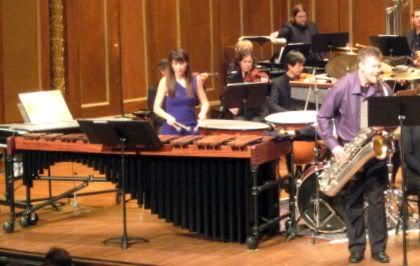 This piece brought together the largest number of players and the most extensive stage setup that I've seen in my (admittedly short) time as a BMOP groupie. It was fun to watch, though the bari sax had trouble cutting through the orchestral "wall of sound" at times.
Resetting the stage after the Rosenblum piece took several minutes, during which Stephen Paulus, composer of the final piece on the program, came on stage and delivered a few remarks to entertain the audience during the transition. He began by addressing a line in his bio in the program stating that he is best known for writing operas. "I resemble that remark," he said, explaining that he declined to take Dominic Argento's Opera History Course as a student at University of Minnesota, because he didn't much care for opera. (If Argento's name reads a bell for frequent MMN readers, by the way, it's because he made an appearance in my previous post with an opera of his own!) Paulus has composed ten of them to date, though, so he clearly had a conversion experience at some point!
Having cleared that up, he turned to the work being performed that evening, Concerto for Two Trumpets and Orchestra, originally composed for Doc Severinsen, legendary trumpeter and Tonight Show Orchestra leader, and Manny Laureano, principal trumpeter of the Minnesota Orchestra. Paulus related how he hadn't originally included a cadenza in the concerto, but the trumpeters requested one, and found a place in the third movement where they could improvise on themes from the piece. During the performance, the conductor got the orchestra to clap in rhythm during this improv break, and the audience joined in.
The decision was made not to include this improvised cadenza in Friday night's performance, and I must say I was a bit disappointed. Clapping along in rhythm would have been out of character for BMOP and its audience, I realize, but that's all the more reason why it would have been fun! Also, after Paulus mentioned that Doc Severinsen wore a rhinestone tuxedo to perform his piece, I longed to see somebody wearing one on the BMOP stage. Oh well!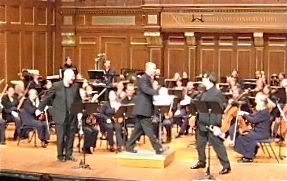 I couldn't remain disappointed for long while hearing trumpeters Terry Everson and Eric Berlin, though. The piece, and their playing, showed the trumpet's full expressive range, from the lyricism of the slow middle movement ("Elegy") to the energy and rhythmic verve of the fast outer movements ("Fantasy" and "Dance"). The two soloists obviously enjoyed the interplay of the piece, tossing riffs back and forth with gusto. As the final movement ended, they both had big smiles on their faces. Modern music can at times be an overly serious affair, so their enthusiasm was a joy to see.
BMOP performs again this weekend, in a program entitled Monsters of Modernism. (I don't think it'll be as scary as that may sound!) You can catch them Saturday night at Wellesley College or Sunday afternoon at Tufts University. These concerts are free, and BMOP is always worth hearing, so if you're in the Boston area, check them out – and tell 'em Miss Music Nerd sent you!
var _gaq = _gaq || []; _gaq.push(['_setAccount', 'UA-20853339-1']); _gaq.push(['_trackPageview']);
(function() { var ga = document.createElement('script'); ga.type = 'text/javascript'; ga.async = true; ga.src = ('https:' == document.location.protocol ? 'https://ssl' : 'http://www') + '.google-analytics.com/ga.js'; var s = document.getElementsByTagName('script')[0]; s.parentNode.insertBefore(ga, s); })();