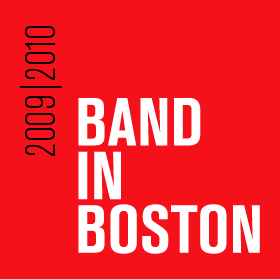 If you saw sparks flying over Boston's Back Bay last night, it might have been the result of the energy and excitement generated by the Boston Modern Orchestra Project during their performance in Jordan Hall. BMOP's primary mission is to commission, perform and record new orchestral work. They also perform 20th century "classics" with great gusto.
The first piece on the program was an example of that. I had heard Stravinsky's Symphonies of Wind Instruments on recording before, and I don't remember being tremendously excited about it. Hearing it live last night was a whole 'nother story. It was wondrous to hear the wide pallette of colors that resulted from different combinations within the wind ensemble, and I was entranced by a sinuous duet between flute and clarinet that was featured prominently.
Harold Meltzer's Privacy, a concerto for piano and wind ensemble, was marked by a dramatic, sometimes tense interplay between the soloist (GRAMMY®-nominated pianist Ursula Oppens) and the ensemble. Starting out with intense rhythmic drive, the piece wound down toward the end, as the ensemble instruments gradually dropped out and left the piano alone, thus illustrating the work's title. This was the most recent piece on the program, by the way, and I learned from the composer that BMOP is making a recording of it this weekend.
But the two pieces on the second half of the program really blew the roof off. Wayne Peterson's And The Winds Shall Blow was a wall of saxophone sound, courtesy of the PRISM sax quartet, which played a starring role in the piece. (Am I bad for snickering at that title, tho? 😉 Actually, it sounds somehow poetic or biblical to me, but it wasn't explained in the program notes.) Recoil, by Joseph Schwantner was aggressive and rhythmic, but also featured an ethereal section where the players sang in wordless harmony. It was an effective way to draw the listener in before ending with a muscular crescendo.
McDoc and I hit a pizza joint afterwards, where we talked about the perennial challenge of generating audience enthusiasm for contemporary music concerts. It's about more than just making the music "accessible," which may or may not be a dirty word, depending on who you talk to. McDoc's opinion, as a music lover but not a music pro, is that a potential audience member for new music needs to know that the experience won't just be something to endure (I'm reminded of the time I took a friend to a performance of Pierrot Lunaire, which he referred to ever after as "that German appendectomy you made me sit through." 😀 ) There has to be something compelling about it; it can't just be eating your musical vegetables. I think the kind of energy and commitment BMOP evinces make it a full meal — dessert, coffee and all! 🙂