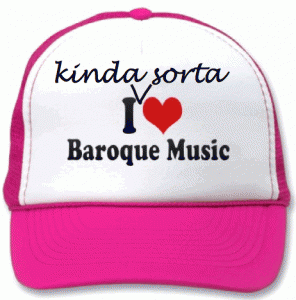 I have a confession to make, music nerds.
I don't always love baroque music.
It's a difficult admission to make considering that 1) I live in Boston, where baroque ensembles and performances abound, and 2) I play the organ, whose repertoire is anchored by baroque music.
But I've always been a romantic and modern music gal, more interested in playing Chopin and Bartok than Bach and Scarlatti. I remember struggling through Bach inventions and preludes and fugues as a piano student, puzzling over how I just never took to it. (Later I would learn that Bach works much, much better on harpsichord or organ than on the piano.)
I share the sentiments of Cassandra Mortmain, protagonist of the sweetly romantic 1930s-era English novel I Capture the Castle by Dodie Smith. In a conversation with her American future brother-in-law and would-be suitor (it's complicated), Cassandra sums up her experience of Bach thusly: "The one Bach piece I learnt made me feel I was being repeatedly hit on the head with a teaspoon." But then she hears "Sheep May Safely Graze," and her view of Bach is transformed.
I am similarly persuadable. I've had the experience several times of going to a baroque music concert expecting to be bored, and coming away elated. (You'd think I'd learn, wouldn't you?)
Last weekend I had another opportunity to be re-converted when I attended the Cantata Singers' performance of the B Minor Mass. The program, just in time for Bach's birthday on March 21, was an exception to their Ralph Vaughan Williams-focused season, but it was also a return to their roots in anticipation of their upcoming 50th anniversary, as the group's founding mission was to perform Bach's cantatas.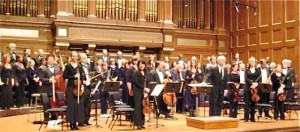 What stands out for me each time I hear this group perform is their obvious love for and delight in what they're doing. I suppose it should go without saying that musicians love music, but somehow I never grow tired of seeing it in action!
It's always interesting to see how composers tackle the traditional mass text, which alternates extreme concision with florid wordiness. In the Kyrie, where the phrase "Kyrie eleison" ("Lord have mercy") is repeated in an extended supplication, Bach uses the voices like instruments, spinning contrapuntal lines out to the horizon as only he can do. The contrasting middle section, "Christe eleison," is more lyrical, giving the two soprano soloists – Karyl Ryczek and Lynn Torgove, in this case – their first moment in the spotlight.
The Gloria, Credo and Sanctus movements have copious amounts of text to be gotten through, and around Bach's time, the tradition had begun of subdividing the text into mini-movements with contrasting moods and textures. Dividing the text in this way allows for more expressive focus on what the text is really saying in different places; for example the anguish of the Crucifixus section ("He was also crucified for us…") which gives way to the effusive joy of Et resurrexit ("And on the third day he rose again…")
These subdivisions also provide opportunities for solos and duets alternating with full choruses. I particularly enjoyed the Benedictus, featuring tenor Frank Kelley and flute soloist Jacqueline DeVoe, and Et in Sprirtum sanctum, with baritone Dana Whiteside and a pair of oboes d'amore (I'm afraid I'm not sure which of the three oboists were playing these featured parts, so I'll name them all: Peggy Pearson, Jane Harrison and Benjamin Fox).
In his program notes, conductor David Hoose describes a category of music that grabs our attention on first hearing but also rewards the listener with new insights and revelations on further study. It has been widely observed that Bach's music epitomizes this idea, that you always discover something new in it no matter how many times you hear it. Hoose writes, "The more we hear and feel, the more we understand that there is more the hear and feel." Looks like I'll never run out of opportunities to be re-re-converted!
MMN Recommends:
Bach – Mass in B Minor

I Capture the Castle
(novel)
I Capture the Castle
(film)
var _gaq = _gaq || []; _gaq.push(['_setAccount', 'UA-20853339-1']); _gaq.push(['_trackPageview']);
(function() { var ga = document.createElement('script'); ga.type = 'text/javascript'; ga.async = true; ga.src = ('https:' == document.location.protocol ? 'https://ssl' : 'http://www') + '.google-analytics.com/ga.js'; var s = document.getElementsByTagName('script')[0]; s.parentNode.insertBefore(ga, s); })();