Happy Friday, music nerds! This week's link roundup features fun fictional facts, music nerds saying sh*t, and pianos being dismembered for a good cause! Let the nerditry begin!
Where in the world is Miss Music Nerd? Well, I write this, as usual, from my fortress of solitude in an undisclosed location, but tomorrow I'll hear two concerts that promise to be stupendous:
Quatuor Zaïde is an award-winning young French string quartet, currently in residence at New England Conservatory. Tomorrow, January 21st at 4pm, they will perform on the JP Concerts series in Jamaica Plain, with special guest pianist Yannick Rafalimanana. The program includes works by Haydn, Wolf and Franck. [DISCLAIMER: I am the Communications Director for JP Concerts. I bribed myself handsomely to plug this concert.]
Tomorrow evening, I'll head Cambridge for a Cantata Singers concert titled The Astonished Breath, featuring works by Alfred Schnittke (gesundheit!) and Arvo Pärt. Should be a wild party!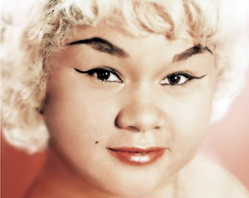 Let us pay our respects: Requiescat in pace, Etta James, matriarch of the blues. In her own words,
'A lot of people think the blues is depressing,' she told The Los Angeles Times in 1992, 'but that's not the blues I'm singing. When I'm singing blues, I'm singing life. People that can't stand to listen to the blues, they've got to be phonies.'
And because I don't think any music lover could ever tire of it:

On the ligher side:

Viola Joke of the Week,
brought to you by Jenn at
Ain't Baroque
:
With apologies to Charlie Daniels

The devil went down to Georgia;
he was looking for a soul to steal
He was in a bind 'cause he was way behind
and he was willing to make a deal
When he came upon a young man
sawing a viola and playing it hot
And the devil jumped up on a hickory stump and said,
"Ah-HA! This one's already mine!"
So he took the violist's soul and got the hell outta there.
(Get it? The hell outta there!)

… No, seriously, Mr. Daniels. I do apologize.
Music nerds are nothing if not resourceful! When Wikipedia went dark on Wednesday for the SOPA strike, we stepped in and filled the music reference gap via Twitter: witness #ClassicalFactsWithoutWiki! A few highlights:
@XercesBlueMusic
Salieri totally murdered Mozart. It was in a movie and everything
@richching
Boheme was modeled after RENT.
@ClassicalKUSC
A Countertenor is the Tenor who keeps a tally of the singers present.
@RonniReich
Madame Butterfly is the sequel to Puccini's little-known early opera "The Very Hungry Caterpillar"
@stravinskyite
It was supposed to be The Rite of Fall but he couldn't get it done in time.
(That segues nicely into my own humble contribution:)
@MissMusicNerd
The riot at the premiere of Le Sacre was actually sparked by a patron in the front row accepting a telegram (Get it?)
Speaking of Mahlergate, the post-mortem commentary continues, and I'm sad to report that in some precincts it has been turned into an opportunity to whinge about classical fans being snooty and/or arrogant. As if! Amanda and Michael at thousandfoldecho analyze one example. Miss Music Nerd asks, can't we all just get along?
You may have seen some of the "Sh*t ______ Say" videos making their way around the web. Here are two classical-related spinoffs I encountered this week:
Sh*t Opera Singers Say

Sh*t Choristers Say

And finally, here is a far less silly video — an interesting short film about the oldest piano shop in Paris:
La Mer de Pianos (Sea of Pianos) from Films & Things on Vimeo.
Proprietor Marc Manceaux discusses how he breaks down old pianos to harvest parts needed to repair and restore other old pianos. It's a bittersweet endeavor, as he explains:
When I have to break one up I always have a little twinge of regret. I put off the actual kill until the last possible moment. But that's what organ donation is all about.
Plus, taking them apart makes some pretty wicked sonorities!
What's new in your music nerdosphere this week?

var _gaq = _gaq || []; _gaq.push(['_setAccount', 'UA-20853339-1']); _gaq.push(['_trackPageview']);
(function() { var ga = document.createElement('script'); ga.type = 'text/javascript'; ga.async = true; ga.src = ('https:' == document.location.protocol ? 'https://ssl' : 'http://www') + '.google-analytics.com/ga.js'; var s = document.getElementsByTagName('script')[0]; s.parentNode.insertBefore(ga, s); })();