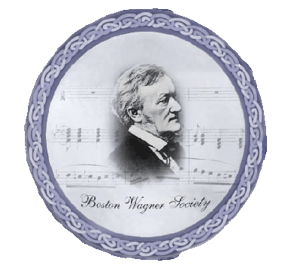 Dalia Geffen loves the music of Richard Wagner, but she got tired of having to travel long distances from her home in Boston to hear it performed live (Boston is not a big Wagner town; New York is the nearest place to hear him regularly). So she founded her own group, the Boston Wagner Society, whose mission is "to promote the enjoyment and knowledge of Richard Wagner's enchanting and profound operas."
The Society presents lectures on Wagner-related topics as well as concerts of his music. I attended their May concert, "Exquisite Love Duets and Solos," featuring excerpts from Rienzi, Lohengrin, Siegfried and Tristan und Isolde. The singers included soprano Andrea Matthews, heldentenor Alan Schneider, soprano Joanna Porackova, and mezzo-soprano Rachel Selan; they were heroically accompanied by pianist Jeffrey Brody, who serves as Music Adviser to the Society in addition to his active career as a composer, conductor and vocal coach.
Ms. Matthews never thought she would sing anything by Wagner; she was more disposed to Handel and other repertoire better suited to her lighter-than-typically-Wagnerian voice. But Dalia Geffen persuaded her to try the role of Elsa from Wagner's Lohengrin, and all I can say is, I would never have guessed when I heard her sing excerpts from the role that it was her first performance of Wagner!
I was very impressed by the quality of both the singing and the acting – sometimes you have to settle for one or the other, and I particularly value good singers who can also act. The Bridal Chamber Scene from Act 3 of
Lohengrin
was the highlight for me; Ms. Matthews and Mr. Schneider did a wonderful job of conveying the drama and tension of the scene, where Lohengrin attempts to deflect Elsa's natural curiosity about the mysterious knight she has just married.
You can read a synopsis of the whole opera here, and an English translation of the libretto here, but for brevity's sake, I give you a condensed version of the scene, Lolcat style!
Lohengrin: U haz a happy?
Elsa: Yes, I haz a happy! You iz gift from from Ceiling Cat!
Lohengrin: You is sweet like byootiful flowr!
Elsa: Kthx! Srsly, tho, who are u? Where u from?
Lohengrin: Alas!
Seriously, though, it was great singing and great acting. 🙂
I didn't feel deprived in any way by the concert performance setting, as opposed to a staged production with costumes and scenery and all, but it helped that I was already somewhat familiar with the stories involved. A gentleman sitting next to me told me he enjoyed the performances very much, but didn't quite understand what was happening during the Love Duet and Brangäne's Watch from Act 2 of Tristan und Isolde. "I don't know why that one soprano stood up in the middle and then sat down again," he said.

He was referring to Rachel Selan, singing the role of Brangäne, whose voice of warning interrupts the love duet between Tristan and Isolde. It made sense for Ms. Selan to be seated inconspicuously beside the piano while she wasn't singing, but I can see how that arrangement might confuse those less familiar with the story.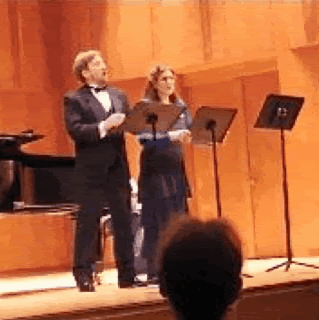 After the performance, I chatted with Paul Geffen, Marketing Director for the Society (and Dalia's husband). He spoke of the joys and challenges of running what he called a "Mom-and-Pop opera company," decribing it as a "labor of love" and this "crazy thing we do that seems like it'll never come together, but does at the last minute." He also spoke admiringly of Dalia's persistence and dedication to her cause, and her skill at rallying support for it. I concur — I'm sure that if she had her way, the Society would be mounting fully-staged productions!
Watch for the Boston Wagner Society's eighth season beginning in the Fall, and tell 'em Miss Music Nerd sent you! 🙂