If I were an old-school classical music critic, I might say that an event like the Boston Symphony's Project Tchaikovsky was just the latest in a string of desperate attempts by orchestra marketing folks to hype classical music to a wider audience by contriving a tenuous connection to popular culture, watering down what should be a Very Serious Experience and neglecting to pay due attention to the music itself.
Fortunately, I am nothing of the kind! 🙂
It's not that I don't take classical music seriously, of course. The concert hall is a sacred space for me, and I believe a great live classical performance is one of the most transporting, transcendent experiences life has to offer. But just because something is sacred doesn't mean it can't ever be lighthearted and fun!
Not to mention educationally valuable. I had the chance to speak to several of the design students who participated in the contest, and it was clear that Thursday night was just the icing on the cake of a great learning experience for them. Most of them are in their final year of school, poised to head for internships in places like New York and San Francisco, where they might have to do a lot of grunt work before they get another chance to see their very own evening wear design on the runway, so this was a wonderful opportunity. Click Mr. Readmore for photos and details!
Oh, and the designers did get to know Tchaikovsky's music better during this process. In this video, Professor Mary Ruppert of Lasell College, where two of the design contestants attend, mentions blasting his music in the classroom while brainstorming their designs:
I always like to hear about anyone of any age getting inspired by classical music! Some of the designers were already familiar with the music — Melissa Higgins said she had danced to it as a ballet student, for example. But I know these are hip young folks who don't listen to classical music exclusively, of course. When not listening to Tchaikovsky, Samira Vargas-Pena merengue from her native Dominican Republic, as well as rock, sung in Spanish and English.
On Thursday evening, the designers and models circulated through the lobby and lounges during the hour before the performance. Patrons were encouraged to vote for their favorite design using paper ballots or via text messages. McDoc voted for two that he particularly liked. I just couldn't decide — I liked them all!
It was interesting to compare the designers' sketches to their finished products, so I've placed photos of the designers and models next to photos of posters that were on display, featuring the designers' sketches and descriptions.
Photos of designers and models by Michael J. Lutch, used by kind permission of the Boston Symphony. Photos of posters by Miss Music Nerd.
This slideshow requires JavaScript.
After the concert – which I'll talk about in a separate post – it was time for the runway show! These two appropriately-dressed gentlemen ushered us into the hall of fashion…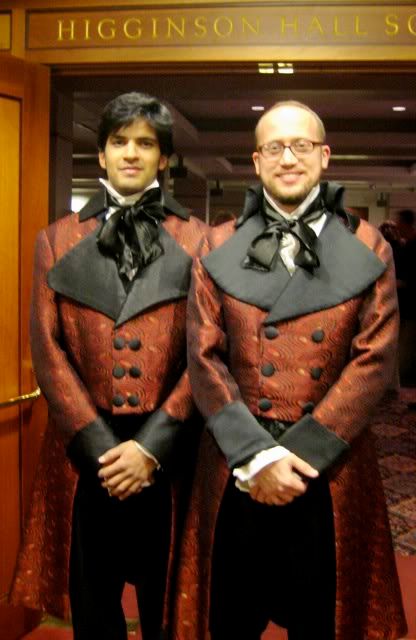 photo by Miss Music Nerd
…where we met our esteemed panel of judges:
…and our jocular emcee, WGBH arts reporter Jared Bowen.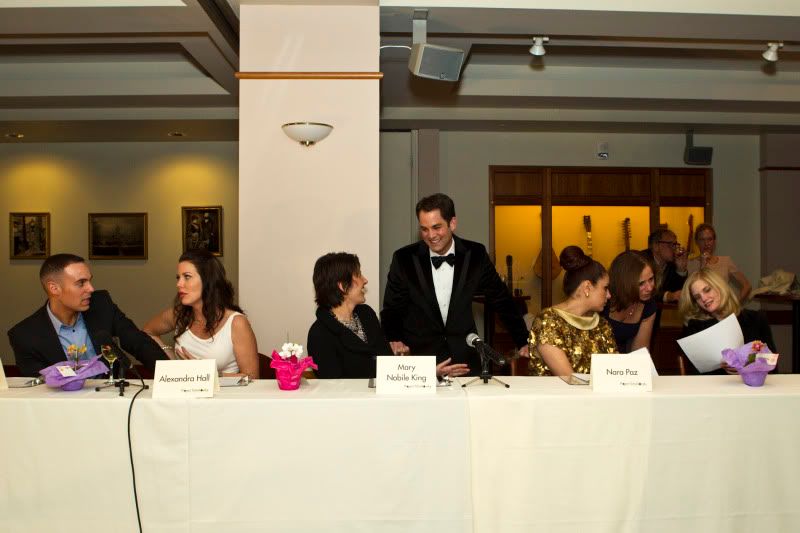 L to R: Michael DePaulo, Alexandra Hall, Mary Nobile King, Jared Bowen, Nara Paz, BSO Director of Marketing Sarah Manoog, Wendy Putnam. Photo by Michael J. Lutch.
[Side note: the composition of that photo above reminds me of an even more famous image. What can I say — my brain is warped!]
One by one, the models took to the runway, with the designers looking on in the background: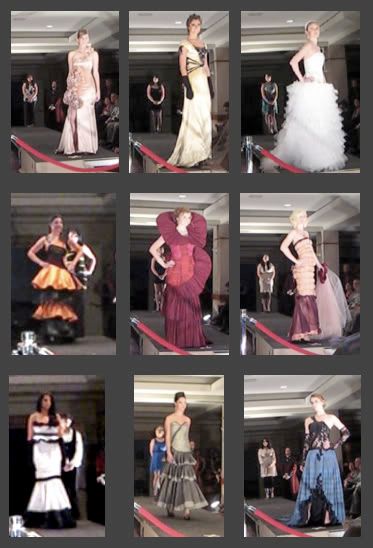 photos by Miss Music Nerd
And then it was time to pick the winner!
Fallon Coster got the nod for Patron Favorite: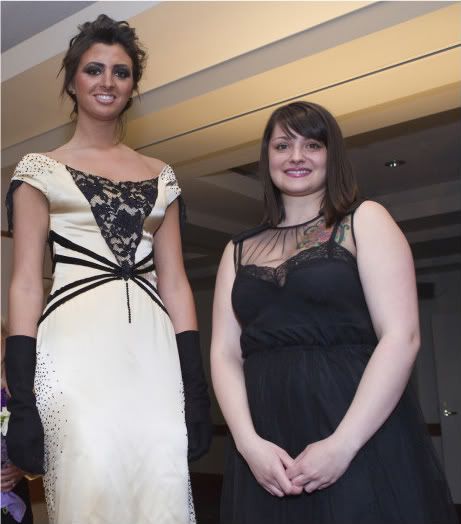 photo by Michael J. Lutch
And Rain Delisle was the judges' pick: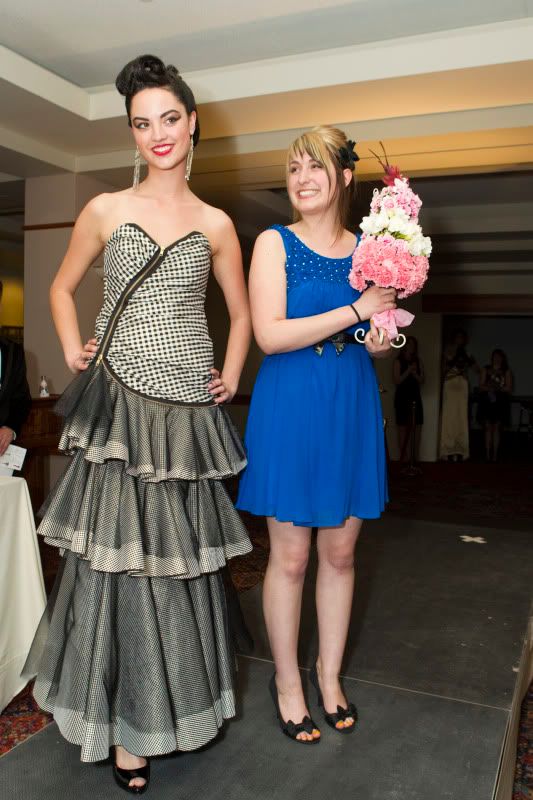 photo by Michael J. Lutch
This, by the way, was McDoc's favorite! The two-way zipper across the bodice is really interesting, and I thought the combination of gingham and tulle was pretty original. But like I said, I thought all the designs were amazing!
Up next: oh yeah, there was a concert that night, too! stay tuned for the Nerd's-Eye View! 🙂