Happy Father's Day, music nerds!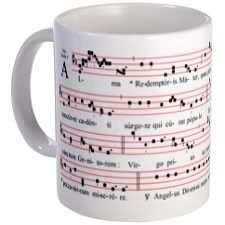 McDoc just found something to make the music nerdometer redline!
He's heavily into Gregorian Chant, you see — more so than I am (who's really the music nerd here, one wonders?), and he found, through the magic of Facebook, this online store featuring Gregorian Chant Merchandise and Apparel. What music nerd's life could be complete without an Alma Redemptoris Mater coffee mug or an Ubi Caritas T-Shirt? (And if you're really hardcore [and a grownup], check this out! :P)
But as if that weren't awesome enough, shop proprietor Brien K. Meehan has embarked on a project to transcribe popular tunes into Gregorian chant notation, while translating the lyrics into Latin. He takes requests! My mind is, once again, reeling with the endless possibilities!
His first entry will take you down memory lane if you grew up in the previous century: Navis Amoris. The Latin doesn't ring a bell? Here's a hint:
Sorry to do that do you — I know it might be a bit of an earworm! 😉
Let's have something more serious as well:
Alma Redemptoris Mater – chant sung by the Trappist Monks of Gethsemani

Ubi Caritas et Amor, setting by Maurice Durufle, sung by the Suspicious Cheese Lords

Hold the phone — the Suspicious Cheese Lords?! This is something that warrants further investigation, not to mention a tip of the nerd glasses!
And here I thought early music was boring! 😀