GRAMMY© Week is in full swing! And I know there are musical stars in the vicinity here in downtown L.A., but they're staying under wraps for the moment. I'm not sure which classical stars I'll run into, except for one who I will definitely see tomorrow night at the nominees reception, because we've exchanged cell numbers and everything!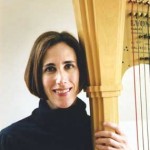 Harpist Sarah Schuster Ericsson is nominated for Best Instrumental Soloist Performance (without Orchestra), for her CD, 20th Century Harp Sonatas
. You can hear excerpts from her recordings here. We talked last week, and both agreed we were looking forward to get away from winter in Boston for a few days. Click Mr. Readmore to see if you guess correctly how much the harp weighs!
MMN: This is your second GRAMMY nomination. Congratulations! How did you react to the first, in 2006, when you were the first harpist to be nominated for a solo recording?
SSE: I was surprised. You know these things – you hope but never expect. It was great, and it's nice to know that whatever else I do, this is probably the one thing I'll be remembered for!
MMN: And when you got a second nomination, how did you react to that?
SSE: I think it validated that my work is worthy of a GRAMMY nomination, twice. It made me feel that maybe I did belong in that group! Does that sound funny, like I don't have any confidence?
MMN: No! I think it's common for musicians to wonder, because we work really hard, and don't necessarily hear much feedback. It's nice to get a tangible response.
SSE: Yeah, and also, these are other musicians listening to your music. That kind of input makes it worthwhile.
MMN: Yes, and as you say on your page on your website about the GRAMMYs, it's judged on achievement and excellence rather than sales or chart position. Because classical music would have no hope if it were all about popularity.
SSE: Right. But you know, music is changing. Everybody has a chance now, with the web. It's not brick and mortar anymore; you can really get your stuff heard and out there. And I think the GRAMMYs respects that. You get a lot of people there who are not huge names, who are getting nominated because they're doing really good work.
MMN: Let's talk about your background. You started on piano at age 5, then switched to harp when you were 10.
SSE: Yes. My mother was a harpist, and the harp was in the house. Though I loved the piano, I was drawn to the harp, mostly because it was there, and I was curious. And my mother played, so I was surrounded by it.
I grew up in Erie, Penn, which is not necessarily a cultural hotspot, but it's 90 miles from Cleveland. At that time, Alice Chalifoux was principal harpist with the Cleveland Orchestra. She was really the teacher that everyone studied with, worldwide. So Cleveland, for forty or fifty years, became the center of the harp world. So I was lucky; I had good teaching from the start.
MMN: When you were really little, were you fascinated by the harp, but not allowed to touch it?
SSE: No, there was nothing I couldn't touch, and that's the way I bring up my own children. I'm always amazed when I go to people's houses, and they're like, "Don't touch the piano!" Why not? Nothing happens; they're not going to hurt it.
MMN: But the harp is a little more fragile.
SSE: It is. It's kind of top heavy; it can tip over. But by and large, kids are respectful of it.
MMN: Are your own kids playing music?
SSE: Yes, though my older daughter, Livia, who's 13, is a singer. Caroline, who I think actually has a really good, strong hand for the harp, is currently interested in ballet; she's at the Boston Ballet School. But I'm hoping as she gets older, she might be drawn back to the harp.
The harp is a hard instrument for a child, because you have to have a really strong hand before you start to play, so it's a lot of tedious work, trying to get your hand in the right position, and a lot of kids just want to wait til they're older.
MMN: What's the minimum age for a kid to start the harp?
SSE: Technically, they can start when they're five or six. They have small harps, and they have boxes kids can use to reach the pedals. I personally think it's helpful to have a good background on piano, and start the harp when you're 10, when you're ready to focus and get more out of your lessons.
MMN: Is there anything you can do to strengthen your hands, other than playing itself?
SSE: I don't think so… Some people garden!
The Salzedo method, the method I'm trained in, promotes a technique that pulls the hand back flat against your palm every time you play a note, and that will strengthen your hand automatically, if you do it enough.
MMN: It's interesting to hear you say that the harp requires a particular kind of strength, because I think the impression of the harp and harpists in the popular mind is that it's very delicate and angelic.
SSE: My harp teacher used to say, "Strong back and weak mind." I think harpists are constantly trying to fight that stereotype. The harp is in the back of the orchestra, and it isn't thought of as an instrument that can cut through. It's an uphill battle.
MMN: You were second harpist with the Baltimore Symphony, and later with the Boston Symphony. Tell me about the life of an orchestral harpist.
SSE: I always thought it was easy, because somebody else moved your harp, which was a great thing. If you're a freelancer, moving your harp is no fun, especially in Boston, in the snow and the rain. But I had done it for so long, and I came to a point where I was able to make a choice to leave if I wanted to. And I have to say, I'm much happier.
MMN: I was curious about why you decided to leave, because I know that so many musicians really covet an orchestral position.
SSE: Right. But when you're second harp like I was, you don't get to play the repertoire that principal harpists play. I realized that that was probably as far as I was going to go, and I wanted to do more. I found that I never had to practice – all I had to do was show up. I wanted to play more notes, and do more with the instrument, like I felt I had been trained to do. I felt I had something to say, and I wanted to be heard.
MMN: Your first nominated CD, Night Breeze
, features the works of Carlos Salzedo, who is the big guy in the harp world. Tell me about his legacy, and how he impacted harp playing.
SSE: He was a huge influence; he actually changed the whole way of the harp. He started his own method, and my teacher was one of his students who was tasked to carry on his method. But his influence was beyond technique – his vision was to change the whole perception of the instrument. And I think he did. When I was thinking about what CD to do, I felt his music should be played.
MMN: Did he actually change how instruments were built?
SSE: He did. The soundboard is wider on a Salzedo harp, so the sound is bigger.
MMN: And you played a Salzedo harp on your new CD.
SSE: Yes. Actually, both CDs are on the same harp. This one had more of a mellow sound than the first one, because the harp was newer then. The wood ages, and so does the sound.
MMN: How did you get the idea for your latest recording?
SSE: After the Salzedo recording, I wanted to do something different. No one had ever done it before, and it was a little meatier than the first one. I wanted to do something a bit more substantial.
MMN: Were there a lot of 20th-century harp sonatas to choose from?
SSE: That's a good question. I didn't look that far; I knew which ones I wanted to do. I bet there are.
MMN: Do you have a favorite piece from the CD?
SSE: Tailleferre third movement is my favorite, because it reminds me of a ticking clock, and I always thought that was kind of fun. That's why I wanted to do it on the recording. I think I play the Hindemith the best; I played it when I was a teenager, so it's lived with me the longest. I've noticed in the reviews that every critic had their own favorite, and that's the one they critique the most. It seemed like Hindemith and Flagello were the two that everyone liked the best.
MMN: I really liked the Hindemith. His music is kind of hit or miss for me, but this piece is beautiful. I had not heard of Nicholas Flagello, but I thought his piece was really beautiful as well.
The pieces you recorded were written between 1939 and 1961, and it seems to me that they fit within a particular aesthetic space: they've got some 20th-century dissonances, and maybe some jazzy rhythms, but they're tonal and beautiful, too. It's beautifully unified. But I'd love to see a follow-up CD highlighting a different part of the 20th century.
SSE: People are rediscovering the harp, but it is a limited repertoire. That's part of the drawbacks of playing it. We're not like the violin, that has a long history of composers writing for it, and hundreds of works; we don't have that kind of repertoire.
MMN: I spoke to violist Eliesha Nelson recently, and she said the same thing about her instrument. Her focus is to find neglected works originally written for the viola, so that violists don't have to depend so much on transcriptions.
SSE: Yes, everyone wants something that's written for their instrument. It just lays differently.
MMN: Tell me about this business of moving a harp around.
SSE: Well, it's like moving a piece of furniture. It weighs about 70 pounds, but it's awkward. It can slide flat into a station wagon or van – most harpists have vans now.
MMN: I thought it would weigh more than 700 pounds!
SSE: Yeah, it feels like it – it feels like 170 pounds. It's the way it's distributed; the weight's at the top. I've always found it quite awkward to lift. It's almost a two-person job. I've learned to do it myself – most harpists do – but it's nice to get a hand, too.
Harp is not a practical instrument. You really have to love it!
MMN Recommends:
Sarah Schuster Ericsson: 20th Century Harp Sonatas
var _gaq = _gaq || []; _gaq.push(['_setAccount', 'UA-20853339-1']); _gaq.push(['_trackPageview']);
(function() { var ga = document.createElement('script'); ga.type = 'text/javascript'; ga.async = true; ga.src = ('https:' == document.location.protocol ? 'https://ssl' : 'http://www') + '.google-analytics.com/ga.js'; var s = document.getElementsByTagName('script')[0]; s.parentNode.insertBefore(ga, s); })();