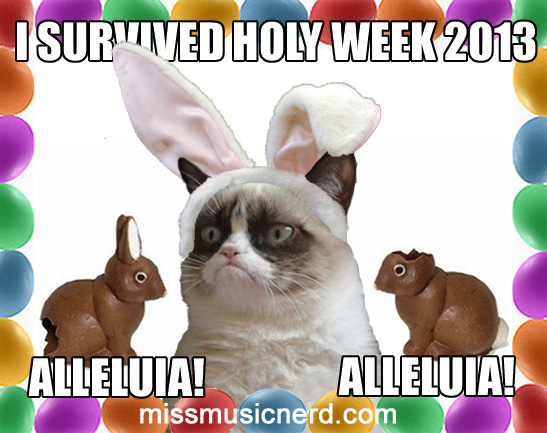 And Happy Passover to everyone still celebrating!
A few years ago when I began my church organist job in Boston, I started a tradition of making a Badge of Completion to share with everyone involved in the church marathon that we call Holy Week. That includes clergy, musicians, church office staff, altar guild members, ushers, etc. We've all earned a little pat on the back, not to mention lots of chocolate!
This year's badge features Grumpy Cat, the internet's current favorite kitty, as you can see above!
Holy Week 2013 was a bit different for me, because instead of being Mistress of All I Survey as organist/choir director of a small but mighty choir in Boston, I was rocking the second alto section in a large choir in Pittsburgh. It was bittersweet this year; it's wonderful to sing in a big choir, and it was nice not to have to be in charge of everything, but I did miss playing and being with our wonderful Boston friends. In both cases, McDoc was my favorite tenor!
Here we are afterwards, ready for the Easter Parade!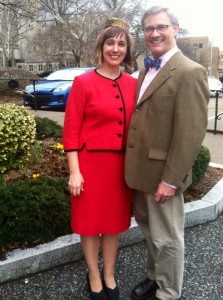 Here are the badges from previous years:
I Survived Holy Week 2012: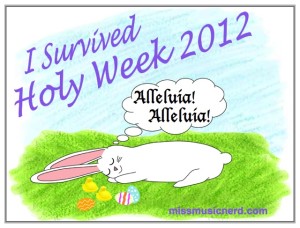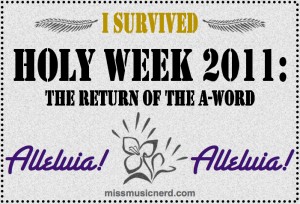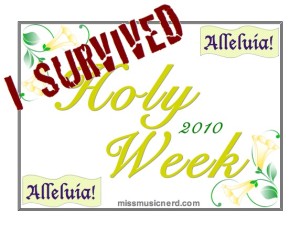 Oh, and I played in a handbell choir this year, too! Here we are playing on Maundy Thursday. I decided to record us on my phone at the last minute, which is why you hear us but don't see us — the camera was pointed at the ceiling. That's me playing the teeny tiny high-pitched bells!
And here is my absolute favorite Easter hymn, which I got to sing twice yesterday since there were two services. And that's good, because it ain't Easter until you sing it!
Happy Spring, music nerds, however you celebrate it!
Let's keep in touch!
Follow MMN on Twitter!
Like MMN on Facebook!
var _gaq = _gaq || []; _gaq.push(['_setAccount', 'UA-20853339-1']); _gaq.push(['_trackPageview']);
(function() { var ga = document.createElement('script'); ga.type = 'text/javascript'; ga.async = true; ga.src = ('https:' == document.location.protocol ? 'https://ssl' : 'http://www') + '.google-analytics.com/ga.js'; var s = document.getElementsByTagName('script')[0]; s.parentNode.insertBefore(ga, s); })();