Look! It's Miss Music Nerd at the Movies! (With her date, McDoc, of course!)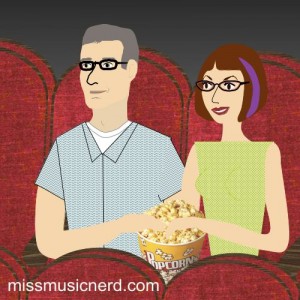 Problem #1: Live orchestral performances can be rather stuffy, formal affairs, and the ticket prices are a lot higher than say, a movie.
Problem #2: Going to the movies is a gamble, as a lot of movies are, let's face it, kinda mediocre.
Problem #3: Live theatre? What's that?
Last weekend, the Los Angeles Philharmonic solved all these problems in one afternoon!
In our hectic modern world, musical institutions are always looking for new ways to attract audiences. One idea has been to overcome geographical (and to some extent, financial) barriers to attendance by broadcasting live performances in movie theatres across the country. New York's
Metropolitan Opera
is currently presenting its fifth season of
The Met: Live in HD
, and the LA Philharmonic has inaugurated a similar program this season:
LA Phil Live
.
Last weekend, McDoc and I attended a local screening of LA Phil Live that combined music and theatre to brilliant effect. The all-Tchaikovsky program featured three Shakespeare-inspired fantasy-overtures: Hamlet, The Tempest and Romeo and Juliet. Each work was paired with a scene from the corresponding play, presented by some pretty high-wattage stars:
Kate Burton
(
Gray's Anatomy
) served as stage director and behind-the-scenes hostess, introducing the event to the simulcast audience, and taking us backstage to greet conductor Gustavo Dudamel, who is quite dynamic and charismatic, both in conversation and in performance.
The actors performed on the peripheral areas of the stage, while the orchestra sat at the ready. Far from making the actors seem cramped or superfluous, this arrangement made for some striking moments: Malcolm MacDowell performed both of his roles from a loft high above the stage, in front of the organ console, which is framed by a spiky, pick-up-sticks arrangement of decorative pipes that, along with the dramatic lighting, provided a suitably menacing backdrop for a ghost. Orlando Bloom, as Romeo, made his entrance by jumping up onto the railing in front of the first row of seats, making like he was about to crowd-surf!
When I go to a live orchestral performance, I always prefer to sit in the balcony, because on the main floor, all you really see is the conductor and a row of string players, but in the balcony you can watch the winds, brass and percussion do their thing. The broadcast provides ample opportunity for close-ups and other camera angles that you couldn't get from any seat at a live performance.
The music was thrilling, of course. I've long been a big fan of the Romeo and Juliet overture, but I didn't know the other two pieces, and now I'm glad I do.
It was a fun experience to hear and see this classy performance in a casual setting. I participated in a Twitter conversation with several attendees watching from different locations, which I wouldn't have done in the concert hall. You can't eat popcorn at a live orchestral performance, either!
I really appreciated that Kate Burton put in a plug – twice – encouraging viewers to attend local live music and theatre events in their communities (recommended dosage: once a week!). It was the right thing to do, because I can see how local arts groups might feel a bit as if their potential patrons were being poached by faraway organizations! And I still feel that the experience of hearing classical music live-in-person is without equal. But simulcasts like LA Phil Live are another great way to experience classical music, and I'm all for that!
MMN Recommends:
Tchaikovsky: Fantasias after Shakespeare
Photos courtesy of Pure Brand Communications
var _gaq = _gaq || []; _gaq.push(['_setAccount', 'UA-20853339-1']); _gaq.push(['_trackPageview']);
(function() { var ga = document.createElement('script'); ga.type = 'text/javascript'; ga.async = true; ga.src = ('https:' == document.location.protocol ? 'https://ssl' : 'http://www') + '.google-analytics.com/ga.js'; var s = document.getElementsByTagName('script')[0]; s.parentNode.insertBefore(ga, s); })();