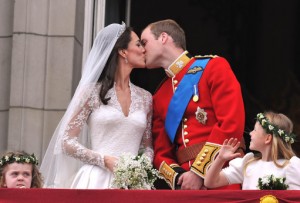 I know, I know – you thought everything there was to cover about the royal wedding had been covered: the dresses, the hats, the guest list (and who wasn't on it), etc, etc. The music chosen for the ceremony hasn't been neglected, either; there were predictions about it beforehand, and commentary on it after (including a fair amount of hatin' on poor ol' John Rutter). You can even download The Royal Wedding – The Official Album
from Amazon, put it on your mp3 player, and use the Queen's procession as the soundtrack to your next workout!
Less attention has been paid to the music that didn't appear on video. While all eyes focused on the procession route, the guests already in Westminster Abbey were treated to a pre-service mini-concert (the full list of selections is on the official wedding website). All of the pieces were by British composers, natch, with one notable exception: J.S. Bach, that noted royal-watcher, kicked off the musical festivities:
J.S. Bach: Fantasia in G major, BWV 572

The program included two works by Sir Peter Maxwell Davies, the current Master of the Queen's Music (evidently a musical equivalent of Poet Laureate). I wonder if the royal family is familiar with Max's Eight Songs for a Mad King, a work which paints a less-than-reverent portrait of George III?
Peter Maxwell Davies: Eight Songs for a Mad King: Smashing Violin

Needless to say, that work did not appear on the program. Here's one that did, in an orchestral arrangement:
Peter Maxwell Davies: Farewell to Stromness

While musically tame, this selection has a radical agenda – it's part of a larger work, The Yellow Cake Revue, composed as a protest to the proposed mining of uranium ore in Orkney, where the composer resides. One can only speculate as to the family's awareness of the work's back story; it has become hugely popular as an independent work, and it was also performed in 2005 at the blessing of the marriage of Prince Charles and Camilla. Two more pieces were played at both services:
William Walton: Touch Her Soft Lips and Part

Gerald Finzi: Romance for String Orchestra

The presence of certain English composers is, I believe, required by law on an occasion such as this; among them are Benjamin Britten, Edward Elgar and Ralph Vaughan Williams. They were duly represented here:
Benjamin Britten: Courtly Dance V: Galliard from Gloriana

Edward Elgar: Serenade for Strings in E minor, Op. 20
I. Allegro piacevole

II. Larghetto

III. Allegretto

Ralph Vaughan Williams: Fantasia on Greensleeves

I'm always glad to see music by living composers chosen for high-profile events like this one, so having already mentioned Sir Peter above, here's John Rutter, love him or not:
John Rutter: This is the day which the Lord hath made

And one more: Welsh composer Paul Mealor.
Paul Mealor: Ubi Caritas

var _gaq = _gaq || []; _gaq.push(['_setAccount', 'UA-20853339-1']); _gaq.push(['_trackPageview']);
(function() { var ga = document.createElement('script'); ga.type = 'text/javascript'; ga.async = true; ga.src = ('https:' == document.location.protocol ? 'https://ssl' : 'http://www') + '.google-analytics.com/ga.js'; var s = document.getElementsByTagName('script')[0]; s.parentNode.insertBefore(ga, s); })();