Today I bring you a story of music, courage and love.
Earlier this week, I came across a link to this story; I'd heard of Sara before, but not lately. Check out the video at the link, by the way — five minutes well-spent!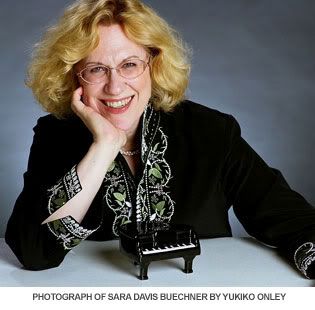 When classical pianist Sara Davis Buechner had her New York City concert debut 25 years ago, she received rave reviews. Thus began a brilliant career of recordings and performances by the 24-year-old Juilliard graduate.
At that time, Buechner still went by the given name 'David'. But in 1998, Buechner came out as a transgender woman, having felt from a very young age that she was meant to be a girl.
She paid a steep price for coming out. Suddenly her manager could no longer secure bookings, and her concert schedule dwindled from 50 performances a year to just a handful, though she continued to make recordings. She was able to find work teaching piano lessons, but at a drastic reduction in income.
In 2002, an old classmate from Juilliard happened to hear her play, and felt so strongly that she deserved wider exposure, she offered to work as her manager, with a view to persisting in promoting her where previous management had failed to do so.
That persistence has paid off. Today, Buechner has a heavy concert schedule once again, along with a teaching post at University of British Columbia in Vancouver. On November 11, Buechner played a recital in New York City to mark the 25th anniversary of her initial debut.
And thanks to the marriage laws in Canada, where she lives, she also has a wife — a woman she met and dated before she transitioned.
Pass the kleenex please — I'm a sucker for a happy ending! 🙂
Visit Sara Davis Buechner's website for more on her revitalized career!
I'm posting this today, by the way, because it happens to be International Transgender Day of Remembrance. The stories you'll find at the link didn't end happily, I'm sorry to say. My hope is that remembering them will inspire us to create a world where violence and bigotry are curiosities of ancient history.
Hug someone you love today — that's the first step. 🙂