The Renaissance in European Music: 1400-1600
Rebirth
– Repopulation of Europe after the Black Death (killed 75 to 200 million people by 1350)
– Renewed interest in philosophy of ancient Greece & Rome
– Developments in science and technology: better maritime navigation led to exploration (Columbus)
– Printing press: introduced in 1455 by Johannes Gutenberg (Germany)
Movable type, not fixed, Metal, not wood
– Spread of information; translation of the Bible into vernacular
– Humanism: increased focus on human talent, ability, fulfillment; decreased focus on the afterlife
– Increased importance of and access to education; introduced ideal of knowledge for its
own sake.
Why is this beneficial?
– Religion remained important, but not unquestioned
– Protestant Reformation
– Martin Luther, 1517, Germany
– Henry VIII, 1529 England
– Catholic response: Council of Trent 1545-1563, Trento, Italy
Music became more expressive, both sacred and secular
Vocal music emphasized clarity and meaning of texts
– We know more about secular music in the Renaissance because of notation & printing
– Composers wrote masses based on both chant melodies and secular melodies
l'Homme Armé: famous French secular song

L'homme, l'homme, l'homme armé,
L'homme armé
L'homme armé doibt on doubter, doibt on doubter.
On a fait partout crier,
Que chascun se viengne armer
D'un haubregon de fer. The man, the man, the armed man,

The armed man
The armed man should be feared, should be feared.
Everywhere it has been proclaimed
That each man shall arm himself
With a coat of iron mail.
Theories:
St. Michael the Archangel, leader of heavenly army
Drinkng song referring to a tavern, Maison L'Homme Arme
Battle song lamenting fall of Constantinople (1453) and gearing up for Crusade
Tune used as basis for over 40 settings of the Mass between 1450 and the 1600s
Used again in the 20th century, for example, Karl Jenkins' The Armed Man: A Mass for Peace, 1999
Guillaume Dufay, 1400-1474, French
Kyrie from Missa l'Homme Armé

Josquin Des Prez, 1440-1521 French
Kyrie Missa l'Homme Armé Sexti Toni

Possible modern equivalents: When Johnny comes marching home (Civil War)
Boogie Woogie Bugle Boy Of Company B (World War II)
Renaissance motet: sacred piece with Latin text, often for four voices
Alternating textures: canonic entrances, polyphony, homorhythm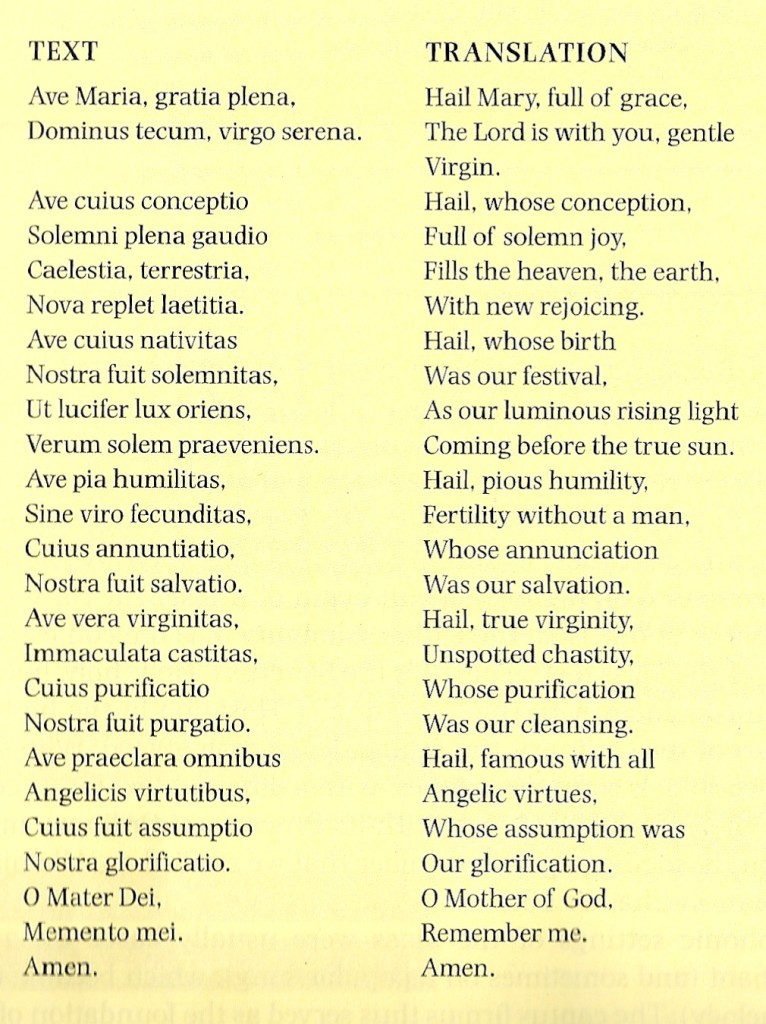 William Byrd c. 1540-1623, English
Catholic, but worked for Queen Elizabeth, who was Anglican
Ave Verum Corpus

Ave, verum corpus natum
de Maria Virgine:
vere passum, immolatum
in cruce pro homine:
cuius latus perforatum
unda fluxit et sanguine:
esto nobis praegustatum,
in mortis examine.
O dulcis, o pie,
o Jesu, fili Mariae,
miserere mei.

Hail the true body, born
of the Virgin Mary:
You who truly suffered and were sacrificed
on the cross for the sake of man.
From whose pierced flank
flowed water and blood:
Be a foretaste for us
in the trial of death.
O sweet, O gentle,
O Jesu, son of Mary,
have mercy on me.
Thomas Tallis c. 1505-1585, English
If Ye Love Me: text in English, not Latin

Spem in Alium: 40-voice motet — the original surroud-sound

Spem in alium nunquam habui præter in te, Deus Israel:
qui irasceris et propitius eris,
et omnia peccata hominum in tribulatione dimittis.
Domine Deus, Creator cæli et terræ,
respice humilitatem nostram.

I have never put my hope in any other but in you, God of Israel,
who will be angry and yet become again gracious,
and who forgives all the sins of man in suffering.
Lord God, creator of heaven and earth,
look upon our lowliness.