– "Blues" refers to both a music genre (style or category of music) and a musical structure (usually 12-bar blues) that is also used in jazz and rock.
– Originated in African-American communities in the "Deep South" of the United States in the 19th century
– Grew out of spirituals, work songs, and narrative ballads.
"The blues takes many forms… It is variously a feeling, a mood, a nameless threat, a person, a lover, a boss man, a mob, and, of course, the Devil himself. It is often experienced as both cause and effect, action and reaction, and it can be used as both hex and counterhex, poison and antidote, pain and relief. Most importantly, the blues is both the cause of song, and song itself…" (Edward Comentale, p. 49. Sweet Air: American Popular Song)
– Possible origin of the term: in West African cultures, mourner's garments were dyed blue to indicate suffering
Some characteristics:
– 12-bar blues: a chord progression using three chords in a specific pattern: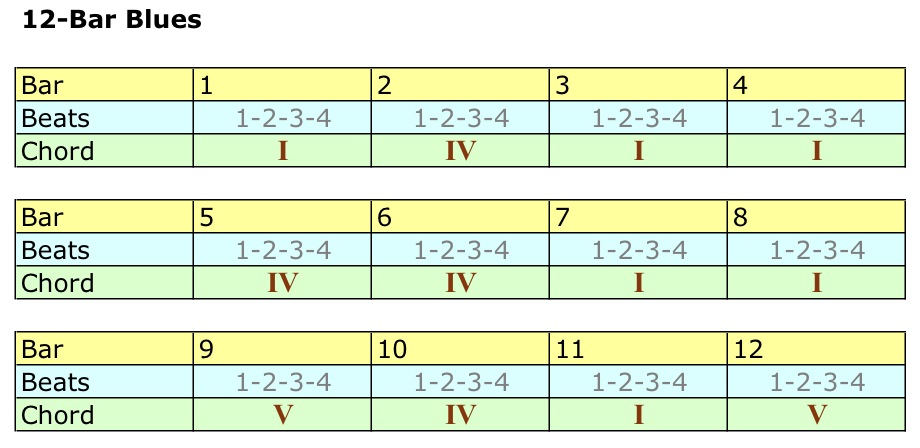 – "Blue notes:" notes that are bent or flattened for expressive purposes
Comparison:
Major Scale



Blues Scale


– Rhythm: shuffle or boogie
– Lyrics often follow an AAB pattern: one line that is repeated, followed by a concluding line. This pattern fits with the 12-bar chord progression: typically one line of lyrics per 4 bars of music.
Examples:
W. C. Handy: "St. Louis Blues"
I hate to see the evening sun go down,
Yes, I hate to see that evening sun go down
'Cause it makes me think I'm on my last go 'round
T-Bone Walker: "Stormy Monday"
They call it Stormy Monday, but Tuesday's just as bad
They call it Stormy Monday, but Tuesday's just as bad
Wednesday is worse, and Thursday's also sad
Howlin' Wolf – "I Asked Her For Water (She Brought Me Gasoline)"
I asked her for water, she brought me gasoline
I asked her for water, she brought me gasoline
That's the troublingest woman that I ever seen
Notable musicians:
Robert Johnson and the myth of the Crossroads
"In folk magic and mythology, crossroads may represent a location "between the worlds" and, as such, a site where supernatural spirits can be contacted and paranormal events can take place."

I went to the crossroad, fell down on my knees
I went to the crossroad, fell down on my knees
Asked the lord above "Have mercy, save poor Bob, if you please"
Mmmmm, standin' at the crossroad, i tried to flag a ride
Standin' at the crossroad, i tried to flag a ride
Didn't nobody semm to know me, everybody pass me by
Mmmm, the sun goin' down, boy, dark gon' catch me here
Oooo, eeee, boy, dark gon' catch me here
I haven't got no lovin' sweet woman that love and feel my care
You can run, you can run, tell my friend-boy Willie Brown
You can run, tell my friend-boy Willie Brown
Lord i'm standin' at the crossroad, babe, i believe i'm sinkin' down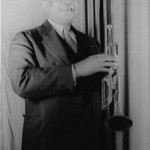 W. C. Handy, 1873-1958
– Called the Father of the Blues
"Though he was one of many musicians who played the distinctively American form of music known as the blues, he is credited with giving it its contemporary form. While Handy was not the first to publish music in the blues form, he took the blues from a regional music style with a limited audience to one of the dominant national forces in American music." (wiki)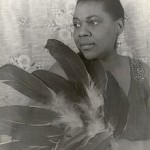 Bessie Smith, 1894-1937
– Called the Empress of the Blues
– Had a successful stage and recording career in the 1920s and 30s, but the Great Depression and the rise of "talkies" (movies with sound) cut her career short
– Died of injuries from a car accident in 1937
Muddy Waters

David "Honeyboy" Edwards (My brush with fame!) (better video)
Influence on rock music:
Led Zeppelin: I Can't Quit You Baby

The Beatles: Money (That's What I Want)

The White Stripes: Ball and Biscuit