Announcement: Register for Spring 2015 classes now!
Especially: Music 221: Class Piano 1, MWF 12:00-12:50pm Course # 0277432
Required for music majors, fun for everyone!
"Can the music convey meaning without the story?" (p. 220 of your book)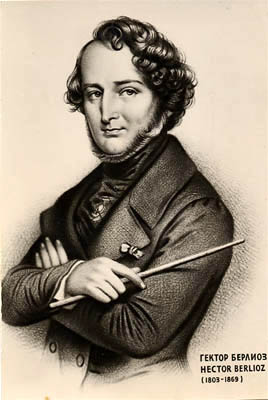 Hector Berlioz (1803–1869), French composer & conductor
– Unlike composers we've studied so far, he was *not* a child prodigy, and not a pianist, either — he played guitar and flute
– His father was a doctor and hoped he would become one, too: "At age 18, he was sent to Paris to study medicine, a field for which he had no interest and, later, outright disgust after viewing a human corpse being dissected." (Wikipedia)
– Began studying music at age 12, and taught himself from books. At age 23, went to the Paris Conservatory (school of music) to study composition.
– Liked to write dramatic music for very large orchestras, sometimes using 1,000 musicians in one concert, and became a conductor out of necessity:
Berlioz initially began conducting due to frustrations over the inability of other conductors – more used to performing older and simpler music – to master his advanced and progressive works, with their extended melodies and rhythmic complexity.(Wikipedia)
"Go Big or Go Home" could have been his motto!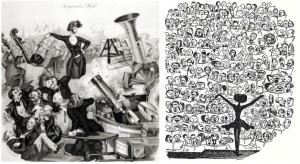 Symphonie Fantastique, written in 1830
We use "fantastic" to mean really, really good, but in this case it is related to the idea of fantasy:
– Imaginative or fanciful; remote from reality
– Very strange, unusual, or unlikely
– Conceived by an unrestrained imagination; odd and remarkable; bizarre; grotesque
A very Romanticized idea of the symphony:
– Five movements instead of four
– Programmatic: telling a story throughout. See p. 218 of your book for the story he's telling!
Discussion of idée fixe by composer & conductor Leonard Bernstein

First movement: Daydreams – Passions
– Ideal form of idée fixe begins after 5:25

Second movement: A Ball
– Idée fixe after 2:00

Third movement: Scene in the Fields
– Idée fixe after 7:50

Fourth movement: March to the Scaffold
– Idée fixe recalled at 6:24

Fifth movement: Dream of a Witches' Sabbath
– Mocking form of idée fixe around 1:30
– Dies Irae melody at 3:30
– Berlioz's influence on film music at 8:35

Pyotr Ilyich Tchaikovsky, 1840-1893, Russian
Romeo and Juliet, Overture-Fantasy based on Shakespeare
Love Theme:

Finale: Things don't go well, alas… 4:45 and after…