A musical story for baseball season: most Ballparks used live organists beginning in the 1940s, but in recent years, recorded music has largely replaced them. The trend is reversing a little bit, though! Here's the story of one modern ballpark organist, Matthew Kaminski, who plays at Turner Field for the Atlanta Braves:
[audio:http://missmusicnerd.com/blog/wp-content/uploads/20100710_wesat_15.mp3|Titles=Braves Organist Matthew Kaminski]
He says hello, by the way!
Dear @bravesorganist, I told my Music 101 students about you – would you tweet hello to them even though they're @Pirates fans? 🙂

— Miss Music Nerd (@MissMusicNerd) April 7, 2015
@MissMusicNerd A shoutout to the Music 101 students – GO BRAVES!

— Matthew Kaminski (@bravesorganist) April 7, 2015
Yayyy thank you!!! @bravesorganist A shoutout to the Music 101 students – GO BRAVES!

— Miss Music Nerd (@MissMusicNerd) April 7, 2015
Players get to choose music for themselves, too. Here's a list of songs the Pirates' players have used.
Film music has been influenced by the idea of the personal soundtrack:
Why does the audience laugh when this music starts?

How is music used in these film clips?
Wizard of Oz: Miss Gulch

Wizard of Oz: Wicked Witch and her Flying Monkeys

Star Wars: Imperial March (Darth Vader's Theme)

Star Wars: Darth Vader puts on his mask

James Bond Theme

This theme returns over and over "when he's preparing to be awesome."
http://tvtropes.org/pmwiki/pmwiki.php/Leitmotif/Film
Skyfall: Opening Scene

Harry Potter: Hedwig's Theme

– Before there were movies, musicals, and TV series, there were stage plays and operas. (We really like to see stories acted out in front of us!)
Leitmotif: German for leading motive: a musical phrase associated with characters, places, ideas or plot elements, or as your book says, "a person, an emotion, an idea, an object." (p. 244)
Extensive list of themes and leitmotifs from well-known films
Richard Wagner 1813-1883, German opera composer
"Wagner revolutionized opera through his concept of the Gesamtkunstwerk ("total work of art"), by which he sought to synthesize the poetic, visual, musical and dramatic arts, with music subsidiary to drama."(Wikipedia)
Wagner: Die Walküre, Act III Opening: "Ride of the Valkyries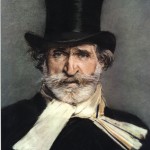 Giuseppe Verdi 1813-1901, Italian composer known for his operas
Chose mostly tragic stories: Joan of Arc, Aida, Macbeth, Otello
– Verdi's operas were popular and successful both when they were first written and long after his death, unlike other classical music that is not immediately appreciated.
Famous aria: "La donna è mobile," sung by Italian tenor Luciano Pavarotti (1935-2007), "one of the most commercially successful tenors of all time." (wiki)
Rigoletto, 1851
Story of a womanizing Duke (a character somewhat similar to Don Giovanni) and his court jester, set in Renaissance Italy
Based on a play, Le roi s'amuse ("The King Has Fun"), written in 1832 by Victor Hugo, author of Les Misèrables
Themes: vengeance, doomed love, mistaken identity
– A court jester provided entertainment for monarchs and other nobility, and could also get away with criticizing, poking fun at them, or delivering bad news, because they did it in a joking way.
Updating opera for modern audiences: a new version at New York's Metropolitan Opera sets the story in Las Vegas in the early 1960s, with the duke as a popular singer and the jester as a stand-up comic