Announcements:
– For Wednesday, read Chapters 34 & 37.
– The Quiz scheduled in your syllabus for Friday, April 10 is postponed until Friday, April 17. It will cover material since the midterm.
Concert Invitation:
"Berries 'n' Bells" Handbell choir performance
Friday, May 1, 8 pm
Mount Lebanon United Methodist Church
3319 W Liberty Ave, Pittsburgh, PA 15216
Admission is $8 and INCLUDES PIE
RSVP to Prof. K. by Monday April 27
---
Quick review of our musical cast of characters in the Romantic Era:
Ludwig van Beethoven (1770-1827)
– Transitional figure between Classical and Romantic eras
– Towering influence over every composer who came after
Franz Schubert (1797-1828)
– Known for his Lieder (songs for voice and piano), for example the scary song about the Elf King (but many love songs, too)
Fanny Mendelssohn (1805-1847, sister to Felix)
– Pianist, conductor, composer, wrote programmatic piano music
Felix Mendelssohn (1809-1847, brother to Fanny)
– Revived the music of J.S. Bach; pianist, conductor, composer, wrote the well-known wedding exit music and the tune for Hark the Herald Angels Sing
Robert Schumann (1810-1856, husband to Clara)
– Composer, pianist, writer, founded a journal of music criticism still published today
Clara Schumann (1819-1896, wife to Robert)
– Composer, pianist with a long, successful performing career; influenced the standard format of the modern piano recital
Frederic Chopin (1810-1849)
– Composer of music almost exclusively for piano, mostly single-movement pieces; pianist, known for soft, expressive playing
Franz Liszt (1811-1886)
– Composer for both solo piano and orchestra, pianist known for flashy performance style that inspired extreme devotion among his (especially female) fans.
This week: Personal Soundtracks & Musical Dramas
Motive, idée fixe, earworm — all ways of describing a stubbornly repeating bit of music
Question to ponder: what music would you choose as your personal soundtrack or theme song?
Next up: Hector Berlioz (1803-1869), French composer & conductor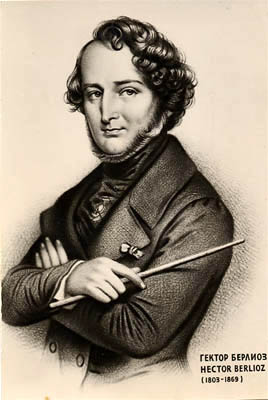 – Unlike composers we've studied so far, he was *not* a child prodigy, and not a pianist, either — he played guitar and flute
– His father was a doctor and hoped he would become one, too: "At age 18, he was sent to Paris to study medicine, a field for which he had no interest and, later, outright disgust after viewing a human corpse being dissected." (Wikipedia)
– Began studying music at age 12, and taught himself from books. At age 23, went to the Paris Conservatory (school of music) to study composition.
– Liked to write dramatic music for very large orchestras, sometimes using 1,000 musicians in one concert, and became a conductor out of necessity:
Berlioz initially began conducting due to frustrations over the inability of other conductors – more used to performing older and simpler music – to master his advanced and progressive works, with their extended melodies and rhythmic complexity.(Wikipedia)
"Go Big or Go Home" could have been his motto!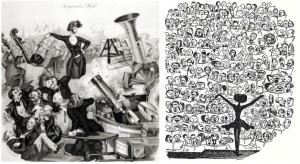 Symphonie Fantastique, written in 1830
We use "fantastic" to mean really, really good, but in this case it is related to the idea of fantasy:
– Imaginative or fanciful; remote from reality
– Very strange, unusual, or unlikely
– Conceived by an unrestrained imagination; odd and remarkable; bizarre; grotesque
A very Romanticized idea of the symphony:
– Five movements instead of four
– Programmatic: telling a story throughout. See p. 218 of your book for the story he's telling!
Discussion of idée fixe by composer & conductor Leonard Bernstein (We saw him conducting Beethoven's 5th Symphony.)

First movement: Daydreams – Passions
– Ideal form of idée fixe begins after 5:25

Second movement: A Ball
– Idée fixe after 2:00

Third movement: Scene in the Fields
– Idée fixe after 7:50

Fourth movement: March to the Scaffold
– Idée fixe recalled at 6:24

Fifth movement: Dream of a Witches' Sabbath
– Mocking form of idée fixe around 1:30
– Dies Irae melody at 3:30
– Berlioz's influence on film music at 8:35