Last time, we listened for what this music might be depicting:
Fanny Mendelssohn Hensel: "September: At the River" from "The Year"

Some of what you heard: Rain or flowing water, a sense of rising, melancholy, but also the feeling that things were getting better.
From your book, p. 211:
"The poems and artwork seem to suggest the passage of time or the seasons of one's life, perhaps her own."
And:
"Flow, flow, dear river, / Never will I be happy." This melancholic idea is captured in the haunting, meandering melody, sounded below a stream of notes signifying the flowing river."
Speaking of water:
Chopin: "Raindrop" Prelude

Frédéric François Chopin, 1810-1849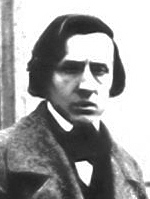 – Born Fryderyk Franciszek Chopin. Polish by birth; lived in France from 1830 on.
– Lived in Paris, was friends with his fellow composer and pianist Franz Liszt, and knew other important musicians, poets, and painters
– Composed mostly for piano
– Gave only 30 public performances during his lifetime; preferred to play at small salon gatherings
– Suffered from poor health most of his life. Died of tuberculosis in 1849
– 10-year relationship with French writer George Sand: unconventional because she had left her husband and they never married.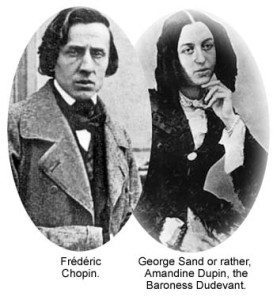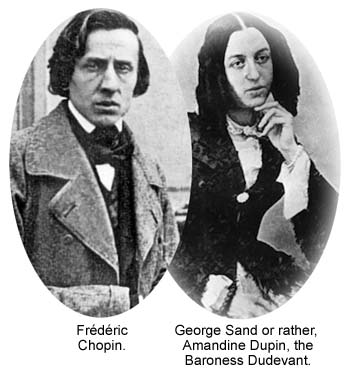 Impromptu: a comic depiction Chopin & Sand, as well as the mood of the Romanic Era:

Dramatization of how their relationship might have started:

Chopin wrote almost exclusively for the piano, mostly single-movement pieces:
Preludes
Etudes
Nocturnes
Waltzes
Mazurkas
Polonaises
Ballades
Etude: a type of piece intended as an exercise, but Chopin's etudes were also good music.

Nocturne: a type of piece evoking night

Franz Liszt, 1811-1886
-Hungarian pianist & composer
-Wrote highly virtuosic piano music
-Lived in Paris, toured Europe frequently
-Wrote rhapsodies and "tone poems" for orchestra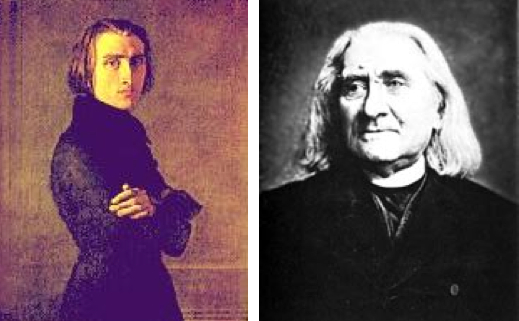 Wildly successful as a touring performer, inspiring a phenomenon that came to be called Lisztomania:
"Liszt's playing was reported to raise the mood of the audience to a level of mystical ecstasy. Admirers… would swarm over him, fighting over his handkerchiefs and gloves. Fans would wear his portrait on [pieces of jewelry]. Women would try to get locks of his hair, and whenever he broke a piano string, admirers would try to obtain it in order to make a bracelet. Some female admirers would even carry glass phials into which they poured his coffee dregs. According to one report: 'Liszt once threw away an old cigar stump in the street under the watchful eyes of an infatuated [woman], who reverently picked the offensive weed out of the gutter, had it encased in a locket and surrounded with the monogram "F.L." in diamonds, and went about her courtly duties unaware of the sickly odour it gave forth.'"
Liebestraum: Dream of Love

Hungarian Rhapsody no. 2

He had a habit of forming relationships with women who were already married… but later in life, he joined a religious order
Classical music in popular culture: