For Friday:
Read Chapter 32
Writing Assignment on Blackboard, due Friday by midnight
---
Fanny Mendelssohn Hensel: "
At the River
" from "The Year," a set of 12 piano pieces (one for each month)
(Slight influence of Beethoven perhaps?)

Composers we've studied so far: What do most of them have in common?
Hildegard von Bingen
George Frideric Handel
Johann Sebastian Bach
Antonio Vivaldi
Joseph Haydn
Wolfgang Amadeus Mozart
Ludwig van Beethoven
Musical interest and talent tends to run in families — the boys and the girls! Two examples from the Romantic Era:
Sister and brother and: Fanny Mendelssohn Hensel (1805-1847) and Felix Mendelssohn (1809-1847)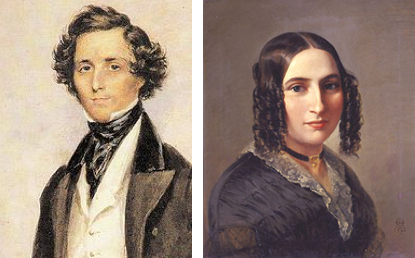 Raised in Berlin in a prominent intellectual family
Both were pianists, composers & conductors
Due to societal conventions about women's roles, Fanny remained an active "amateur" while Felix pursued music.
Fanny composed solo piano music, lieder (songs) and chamber music. Some of her music was published under Felix's name.
Felix revived the music of J.S. Bach by conducting a performance of Bach's oratorio, St. Matthew's Passion, in 1829. This made Felix famous at the age of 20.
You've probably heard his music before:
Wedding March from A Midsummer Night's Dream

Hark! The Herald Angels Sing
His tune originally had a patriotic text, but was later used for the well-known Christmas carol

Both married and had children, and Felix toured extensively, but they remained very close. Fanny died of a stroke in May of 1847, while preparing to conduct an oratorio by Felix. He died of a stroke in November of the same year.
Husband & Wife: Robert Schumann (1810-1856) & Clara Wieck Schumann (1819-1896)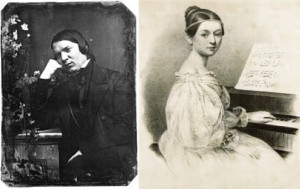 Part of Robert's wedding present to Clara:
Widmung ("Dedication")

You my soul, you my heart,
you my bliss, o you my pain,
you the world in which I live;
you my heaven, in which I float,
o you my grave, into which
I eternally cast my grief.
You are rest, you are peace,
you are bestowed upon me from heaven.
That you love me makes me worthy of you;
your gaze transfigures me;
you raise me lovingly above myself,
my good spirit, my better self!
They had 8 children:
Emil (1847)
Marie (1841–1929)
Elise (1843–1928)
Julie (1845–1872)
Ludwig (1848–1899)
Ferdinand (1849–1891)
Eugenie (1851–1938)
Felix (1854–1879)
Clara:
– Child prodigy as a pianist, with career managed by her father
– Successful concert pianist as adult
– Was often primary breadwinner, due to her husband's illness
– One of the first pianists to perform from memory, making that the standard
– Changed the kind of programs expected of concert pianists. Earlier: mainly bravura pieces designed to showcase the artist's technique, often in the form of arrangements or variations on popular themes from operas. And, as it was also customary to play one's own compositions, she included at least one of her own works in every program. Later: under the influence of Robert, her performances focused almost exclusively on more serious music by Bach, Beethoven, Mozart, Schubert, Mendelssohn, Chopin, and Schumann.
Robert:
– Studied music and literature in his youth, encouraged by his father, a writer and publisher
– Published his first essay on music at age 14
– Father died when he was 16; rest of the family did not support his musical aspirations
– Studied law in accordance with his family's wishes, but continued in music
– Studied piano with Friederich Wieck, but permanently injured his right hand
– Eventually married Wieck's daughter Clara, against her father's wishes
– Became an influential music critic; founded a magazine, the New Journal of Music (Neue Zeitschrift für Musik)
– Declared Chopin a genius, Liszt too flashy
– Created two literary characters representing two sides of his personality:
Florestan, the passionate extrovert:

…and Eusebius, the dreamy introvert:

– Career and life disrupted by bipolar illness
The Elf King: a scary kind of elf!
One singer portrays the narrator and 3 different characters — listen for how the music changes for each one.
– Narrator
– Father
– Son
– The Elf King