Read for Wednesday: Prelude 4
Bring list of terms and definitions for midterm review
What's going on in this music?
Listen for:
– Tempo
– Dynamics
– Mood
– Contrasts: how does it change? How many contrasting sections do you hear?
– If there's a story being told, what is it about?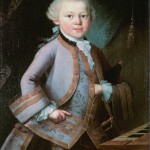 Wolfgang Amadeus Mozart, 1756-1791, Austrian
– Child prodigy, played piano and violin, toured European courts with his father and sister
– Began composing at age 5
– Composed over 600 works symphonies, sonatas, operas, masses
– Freelance composer with constant financial difficulties
– Died at age 35, while composing his Requiem
Amadeus: partly fictionalized film about Mozart's life and his rivalry with Italian composer Antonio Salieri

"Scholars have long studied how Wolfgang Amadeus Mozart created his works. Nineteenth-century views on this topic were often based on a romantic, mythologizing conception of the process of composition. More recent scholarship addresses this issue by systematically examining authenticated letters and documents, and has arrived at different conclusions." (wiki)
"The eccentric count Franz von Walsegg commissioned the Requiem from Mozart anonymously through intermediaries. The count, an amateur chamber musician who routinely commissioned works by composers and passed them off as his own, wanted a Requiem Mass he could claim he composed to memorialize the recent passing of his wife. Mozart received only half of the payment in advance, so upon his death his widow Constanze was keen to have the work completed secretly by someone else, submit it to the count as having been completed by Mozart and collect the final payment." (wiki)
Gregorian Chant: Dies Irae

Mozart's version of the opening text:

A portrayal of the compositional process: How realistic is it?

Latin text:
Confutatis maledictis,
flammis acribus addictis,
voca me cum benedictus.
Oro supplex et acclinis,
cor contritum quasi cinis,
gere curam mei finis.
English translation
When the accused are confounded,
and doomed to flames of woe,
call me among the blessed.
I kneel with submissive heart,
my contrition is like ashes,
help me in my final condition.
Takeaway: We like to mythologize people we admire, but even geniuses are human!